Scheugenpflug GmbH, a manufacturer of high-quality bonding, dispensing and potting technology, will present two solutions at productronica 2021 (scheduled for November 16 to November 19 in Munich) for the booming electronics markets that set new benchmarks. That's because dispensing systems are key technologies in an environment of increasing automation and demand for high product output.
Florian Weixelbaum, product manager at Scheugenpflug, is convinced by the result of the development work: "These two product innovations offer maximum productivity, flexibility and functionality to cope with increasing material viscosities, decreasing cycle times and reduced dispensing quantities."
High performance for series production
Material usually has to be dispensed as quickly as possible when using materials of very high viscosity such as thermal interface materials, whether for control units or battery systems. This is a task that the DosP DP2001 high-performance dispenser performs up to 10 times faster than comparable solutions on the market. It dispenses 1C materials from 0.06 ml to 20 ml and 2C materials from 0.1 ml to 40 ml. The high dispensing speed for highly automated production lines enables a new reliable valve system with extremely short switching times. It works without a membrane and is particularly pressure stable.
Powerful servo drives ensure optimized power transfer and higher dispensing speed. To achieve the high dispensing speeds even with highly viscous thermally conductive heat transfer adhesives, the DosP DP2001 comes with a newly developed premium mixing tube. These static mixing tubes with geometry developed in-house withstand the highest dispensing pressures without plastic deformation.
Maximum flexibility from even the smallest volumes
The trend toward miniaturization of electronic components is leading to increasingly small dispensing quantities and potting volumes. The new DosPL DPL2001 low-volume dispenser dispenses dots — smaller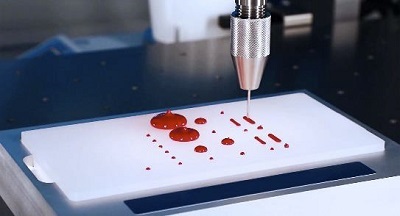 The new low-volume DosPL DPL2001 system dispenses even the smallest dots quickly, reliably and with consistent quality. Source: Scheugenpflug GmbHthan pin heads — quickly, reliably and with maximum repeat precision. The dispensing quantity includes 1C materials from 0.003 ml to 2 ml and 2C materials from 0.006 ml to 4 ml. The high dispensing accuracy with fast cycle times is made possible by a new displacement-free valve system, which is also suitable for the use of abrasive materials due to its robustness.
The new technology is particularly advantageous in combination with the proven piston dispensing principle. This means that not only the smallest points and lines can be dispensed. The system also offers the greatest possible flexibility in terms of dispensing rates and volumes. As with the DosP DP2001 high-performance dispenser, powerful servo drives ensure the high dispensing speeds. In addition, new process possibilities arise such as adaptation of the mixing ratios to product-specific properties. This ensures greater flexibility and thus an extended range of applications.
Both Scheugenpflug dispensing solutions feature reliable process monitoring and access to relevant process parameters. The new sensor technology and software continuously monitors the dispensing pressure by component. Improved start/stop behavior as well as more precise contours are decisive advantages, especially in the smallest quantity range, and are made possible by the new parameter selection of the material-specific dispensing pressure in the dispensing program.
The dispensing units can be used in the multi-function Dispensing Cell DC803 for atmospheric applications. Alternatively, it can also be used as an integration solution in conjunction with the process module.