A team of researchers at the Korean Advanced Institute of Science and Technology (KAIST) led by professor Byung Jin Cho has announced the development of a glass fabric-based thermoelectric (TE) generator that is light, flexible and produces high output power. The researchers synthesized liquid pastes of N- and P-type semiconductor materials and printed them onto a glass fabric. The pastes diffused in the pores of the fabric and hundreds of dots of N- and P-type materials were formed. This process minimizes thermal energy loss, thus maximizing output power. The KAIS team manufactured a 10 cm by 10 cm TE generator that produces 40 mW of electric power from the temperature difference between the human body and the surrounding air.
The next generation of electronic devices and gadgets will be wearable. They must be flexible and light, and must have a practical wearable power source. One of the stumbling blocks on the way to commercialization is precisely how to supply continuous and reliable power to these devices. Several schemes have been developed, but thermoelectric (TE) generators promise to be the solution if properly designed. These generators produce electricity from the heat of the human body.
To date there are two types of these generators that, in principle, could address the power needs of wearable devices. One is an organic-based TE generator manufactured with polymers that is extremely flexible and compatible with the human skin. This generator is ideal for wearable devices. Unfortunately, polymers do not produce enough power. The other type is made of inorganic material, which produces high power, but is heavy and not flexible. This makes both types not suitable for wearable mobile devices.
But the generator developed by the KAIST team is promising. "For our case, the glass fabric itself serves as the upper and lower substrates of a TE generator, keeping the inorganic TE materials in between. This is quite a revolutionary approach to designing a generator. In so doing, we were able to significantly reduce the weight of our generator (~0.13g/cm2), which is an essential element for wearable electronics," professor Cho says.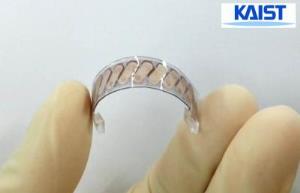 KAIST's thermoelectric generator can be bent as many as 120 times, but it still shows the same high performance. (Credit: KAIST)
"Our technology presents an easy and simple way of fabricating an extremely flexible, light, and high-performance TE generator. We expect that this technology will find further applications in scale-up systems such as automobiles, factories, aircraft, and vessels, where we see abundant thermal energy being wasted," he adds.