If anyone doubted that mobile wireless was subsuming the traditional computing market, they might be convinced by what happened on Nov. 8, 2012. That's the day that wireless semiconductor company Qualcomm surpassed Intel's $105 billion in market capitalization for the first time. And it has stayed ahead of Intel pretty much ever since. That, despite the fact that Qualcomm's $19 billion annual revenue is only 40 percent of Intel's.
The stock market is fickle, of course, and prone to get ahead of reality. Data processing still dominated semiconductor revenue last year, making up 34 percent of the total, according to the latest numbers from IHS. But wireless communications was a strong number two, at 23 percent. And it's closing in fast – last year data processing revenues fell 7.8 percent while wireless communications rose by almost the same amount. In fact, it was the only application market that grew.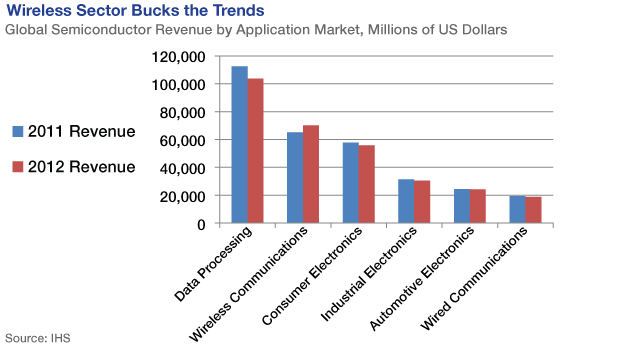 In terms of end markets, the PC market declined in 2012 by 2.7 percent while factory revenue from mobile communications equipment, including handsets and tablets, is projected to grow at 9.4 percent over the next few years, according to IHS.
Whatever numbers you look at, they all seem to point to the same thing: a tectonic shift in the semiconductor market. As wireless communications explodes beyond phones, large swathes of the chip, computer, consumer electronics and embedded systems markets will be redefined.
And Qualcomm is leading the way in this transition. The company's revenues surged 27 percent in 2012, raising it to the number three spot on IHS' top 10 semiconductor suppliers list. (See list.)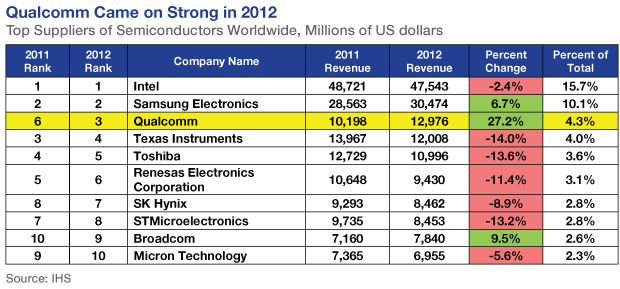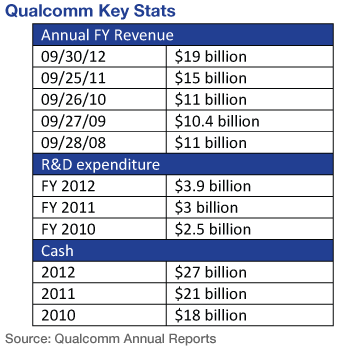 "There are tons of opportunities ahead of us, both in the traditional businesses and in the non-handset devices," said Chairman and CEO Dr. Paul Jacobs on the company's earnings call in late January. "The company is very, very well positioned to seize the opportunities we see for the future."
The test will be in the execution. For Qualcomm to continue to capitalize on this shift, it must meet new challenges in technology, face new competitors and figure out how to serve a wider array of OEM customers than ever before. The company must not only be an engineering-driven, technically brilliant dynamo serving one market – mobile phones – it must also be a market-driven, consumer-friendly company that supplies the technology that runs, well, potentially everything.
Stepping out of the shadows
Until recently, a relative unknown, at least to consumers, Qualcomm literally stepped into the limelight at this year's Consumer Electronics Show in Las Vegas, taking the keynote stage that had for years been Microsoft's platform – another sign of the rise of wireless over traditional computing. Switching the keynote from a consumer and business software company to a hardware company that makes the guts of phones seemed a striking change. But Qualcomm is similar to Microsoft in at least one way – it, too, has built its business on licensing intellectual property.
That wasn't the original plan. "They didn't set out to be a licensing business," said Francis Sideco, senior principal analyst of consumer electronics and communications technologies at IHS. Founded in 1988, the company originally built wireless infrastructure and mobile handsets. Licensing its code division multiple access (CDMA) technology "was sort of a desperate lifeline to keep the company afloat," Sideco said. But once CDMA caught on as a standard in third-generation (3G) cellular, the company made a strategic shift to designing chips and to licensing CDMA, for which it holds key patents.
That's how Qualcomm became a "technology enabler," said Brett Simpson, partner and co-founder of Arete Research, an independent equity research firm in London. It was a key shift, the magnitude of which no one at the time fully appreciated.
"It was a business model that was unique at the time," said Simpson. "No one had thought through the ramifications of signing a license with Qualcomm." Today, most companies that use CDMA in their products – both chip makers and handset vendors – pay Qualcomm between $6 and $7 per phone.
"That income stream has been [Qualcomm's] engine for R&D," according to Simpson. "It was a virtuous cycle. They grew the business and as 3G grew, their profits grew and they could invest more in R&D and become more powerful." The company recently reported that it has more than 225 CDMA licenses and licensees.
Royalties and license fees routinely generate about 80 percent of the company's profit, although they make up only about 33 percent of revenue. And as smartphone shipments continue to rise, so does Qualcomm's licensing income.
Radio in its DNA
Qualcomm's ability to take advantage of its innovative IP and deep engineering talent has been impressive. "It's got radio in its DNA," said Simpson. As wireless expands from modems and phones into a broad array of products – from computers to TVs to cars to the grand "Internet of Everything" – the company's opportunities seem endless.
Indeed, Qualcomm seems to be hitting on all cylinders now. In fiscal year 2012, the company's net income rose 20 percent and revenues totaled just over $19 billion, up 28 percent from the previous year. In the first quarter of FY 2013, net income was up 36 percent, revenue was up another 29 percent and it shipped a record number of chips for the quarter, some 182 million.
The company's chips can be divided into three main categories, according to Sideco: cellular baseband transmitters and receivers (modems); application processors; and wireless short-range connectivity chips like WiFi that Qualcomm got through its acquisition of Atheros in 2011.
A lot of the company's growth, historically, has come from its IP licensing and sale of cellular chips, said Tom Hackenberg, principal analyst, MCUs and DSPs, compute platforms, at IHS. But its future growth is expected to come from high-margin application processors, specifically by integrating more of the cellular, connectivity and other functions, he said. Whereas a stand-alone cellular chip brings in $3 to $7 in revenue, application processors can bring in anywhere from $35 to $60, according to Hackenberg.
That's why its latest product, the Snapdragon 800 processor, is a watershed for Qualcomm. Announced at CES, the 800 is based on the latest ARM core and includes CDMA, application processing and graphics processing as well as optional WiFi 802.11.ac and 4G LTE. The Snapdragon 800 is the first Qualcomm processor that extends to markets beyond traditional mobile devices like smartphones and tablets. The company has said the processor will be incorporated into computing and consumer electronic devices, including smart TVs and digital media adapters.
"Today's computing devices are being built from the ground up on mobile hardware and software," said Edgar Auslander, vice president of product management at Qualcomm. "We believe the Snapdragon platform is a key architecture not only for the mobile world but also for the digital world." (See Sidebar 1 below: "Cellular everything")
As Qualcomm expands into new markets, it's brushing up against a variety of new competitors, including chip companies from the computer market and its own OEM customers. As mobile communications becomes the center of the universe, it's sucking in chip vendors from a variety of markets. (See Sidebar 2 below: "Qualcomm navigates a shifting competitive landscape")
"The margins are getting tighter and tighter as consumers are less willing to spend on computers, while smartphones and tablets are becoming more functional," said Hackenberg. "Those markets are converging, which represents a huge opportunity for anybody who can capture more market share in the tablet and handset space."
But Qualcomm continues to push the technical envelope with its radio prowess, being consistently first to market with the most innovative chips, said Simpson. It currently has the only commercial LTE chip shipping and incorporates a cutting-edge feature called carrier aggregation, a technology that's key for operators trying to make more efficient use of limited spectrum. By the second half of this year, Qualcomm says it anticipates commercial products incorporating this third-generation 4G LTE modem, which is integrated into both the Snapdragon 800 and the Gobi MDM9x25 chipsets. The chipsets support all seven global cellular standards across 2G, 3G and 4G, and so enable broadband connection virtually anywhere, says the company.
Layers of complexity
The technical challenges of moving from 3G to 4G are formidable, said Auslander. First there were dual-band phones, then quad-band. But with LTE, there are more than 40 frequency bands. And yet Qualcomm has designed them all into one chip: a "universal modem that's the only true multimode modem in the world," he said. "We have customers who want to have a single SKU, so they need a chipset that can do... all the standards, using the various frequency bands available in different regions of the world."
That's for the company's handset OEMs, presumably. But as wireless is designed into other products, Qualcomm is learning to serve a wider variety of customers. Historically, Qualcomm has worked with cellular phone and base station companies, which understood cellular technology. Now "we have a collection of different customers coming from the computer world, or the consumer world, or customers that don't really want to know how standards work or how cellular technology works," Auslander said.
So now Qualcomm provides more complete reference designs and platforms that include the hardware, software, services and ecosystem tools. In fact, Qualcomm recently announced that its Qualcomm Reference Design (QRD) program, started in late 2011, has been involved in the commercial launch of more than 170 devices and has another 100-plus designs in progress.
That program is one of the ways that Qualcomm is going after low-end smartphones in emerging markets, a huge new growth area. In fact, the low end is the fastest growing segment of the global smartphone market, Sideco noted. IHS projects shipments of low-end smartphones to more than double from 206 million in 2012 to 559 million in 2016.
The low end in emerging markets is one area where Qualcomm may be vulnerable, particularly in China, said Simpson. "Qualcomm is fairly new in China in providing turnkey solutions like MediaTek," a Taiwanese cellular baseband company that's done a good job of providing Chinese OEMs with everything they need to build a phone.
The low-cost smartphone market sounds like an oxymoron – it has to be low cost but still provide the high-end features that make a phone smart. "So you can't reduce the price by removing features unnecessarily," said Sideco. "There's a minimum level of capability you need to satisfy the appetite of the masses."
So the company must continue to be at the leading edge of technology, while also offering lower-cost platforms for emerging markets AND pushing for widespread adoption of cellular connections in as many products as possible. One barrier on that last front is the tendency of some OEMs to keep cellular an expensive, high-end option. Simpson noted that today only about 25 percent of Apple iPads ship with 3G or 4G, most likely because the option carries such a hefty price tag – about $170. "That's a 40 percent increase in price," he notes.
One way to break through is to market directly to consumers, like Intel did with the Centrino processor that incorporated WiFi. Before Intel's big marketing push, few if any laptops had WiFi, Simpson said. Now, it's a standard feature. Interestingly, Qualcomm last August created the new position of chief marketing officer and hired Anand Chandrasekher, who worked at Intel for 25 years and was responsible for its Centrino marketing campaign.
Another way might be through new types of agreements with carriers, perhaps with the carriers subsidizing the cost of the LTE chip so OEMs offer it as a more affordable option. After all, "Verizon would benefit from every LTE-enabled device," noted Simpson.
Meanwhile, Qualcomm is using its hefty R&D budget – $3.9 billion last year – not to mention its mountain of cash – about $27 billion – to develop an array of new technologies, including new displays, augmented reality and an "Internet of Everything" development platform with AT&T. The goal of the platform is to help OEMs design cellular into everything from automotive to smart meters to "future verticals and applications that haven't even been thought of yet," the company said in a recent announcement.
That's the ultimate market – cellular connections beyond people communicating via phones, computers or TVs, but machines communicating with machines. After all, there are only 7 billion people on the planet, and "there are only so many devices one person can carry," said Sideco.
Sidebar 1
Cellular Everything
Edgar Auslander, vice president of product management, is responsible for Qualcomm's chipset product roadmap management, planning and strategic direction. Before joining Qualcomm in 2011, he was senior vice president of strategic planning at ST-Ericsson, a director at Intel and one of the founders of Texas Instruments' Wireless Business Unit. Electronics360 asked him what key trends he's watching as Qualcomm evolves its roadmap.
First, "we are looking at how computing is being redefined," he said. As the phone becomes the nexus of computing, the company must broaden its view, not only staying on the leading edge of cellular technology, but also the latest in computing, video, graphics and other areas.
Second, the company is planning for a new infrastructure that can handle the enormous increase expected in cellular traffic, he said. The company calls this "the 1,000x data challenge" – its goal is to expand the wireless data capacity by 1,000 times its current level. During the January first quarter earnings call, Qualcomm Chairman and CEO Paul Jacobs described the plan. "We believe that small cells operating in licensed spectrum bands and using advanced interference management techniques on a dynamic basis will be an important component in meeting the challenge."
Third, Qualcomm is watching and thinking about "how the industry evolves in terms of business models," said Auslander. Beyond simple communications, there's an explosion of new applications and technologies that could enable all sorts of new businesses. Qualcomm has R&D projects in many of them.
For instance, the company is developing at least two different display technologies: Mirasol, a low-power reflective display technology, and Pixtronix, which uses MEMs devices. It has also developed an augmented reality technology called Vuforia, which is already in the market.
At CES in January, Qualcomm announced that Vuforia will support text recognition and that it will work with Sesame Workshop to encourage "developers to build a new class of educational experiences that incorporate interactivity with real world objects."
Auslander is excited about the challenges but also confesses to feeling a bit overwhelmed by them sometimes.
- Tam Harbert
Sidebar 2
Qualcomm Navigates a Shifting Competitive Landscape
A decade ago, Qualcomm's competitors were mobile handset vendors such as Motorola and Nokia, who designed their own modem chips. As Qualcomm and other third-party chip companies designed and sold modem chips, handset vendors gave up on vertical integration and started sourcing their modems. Six years ago, Qualcomm's competitors were other chip companies that made modems, including Texas Instruments, Freescale, Philips Semiconductor and Analog Devices.
But Qualcomm had such strong technology and good pricing, these companies dropped out of the market. "None of those companies are making modems anymore," said Brett Simpson, partner and co-founder of Arete Research, an independent equity research firm in London. In fact, TI recently pulled out of the smartphone market entirely.
Today, Qualcomm has an entirely different set of competitors coming from many directions. For the Snapdragon application processor in particular, the primary competitors are again captive, explained Tom Hackenberg, principal analyst, MCUs and DSPs, compute platforms, at IHS. Samsung makes its own application processor, the Exynos 5. And Apple's iPhones and iPads are based on Apple's own A5 and A5x processors.
One of Snapdragon's latest and fast growing competitors is Nvidia, said Hackenberg. "Nvidia's Tegra 4 is the Snapdragon's nearest competitor in performance with Nvidia's outstanding graphics engines as a bonus, but Qualcomm seems to offer more integrated features."
Other competitors include MediaTek, Broadcom and joint venture ST-Ericsson. ST-Ericsson, however, has been struggling. ST Microelectronics announced it would pull out of the venture and it was recently reported that the venture has hired J.P. Morgan Chase & Company to investigate options including sale of the business.
Of course, the elephant in the room is Intel, which has been trying to break into the mobile phone market with its Atom processor. At CES in January, the company announced a new Atom processor and reference design targeting the market for low-end smartphones in emerging markets, which is the highest growth area for smartphones. It's a strategy designed to help the company expand its minimal market share in phones, said Sideco. "While Intel dominates the PC microprocessor market, in the smartphone semiconductor business the company has no place to go but up."
- Tam Harbert