A new family of servo drives from Rockwell Automation is designed to simplify machine design and optimize performance throughout a machine's lifecycle. The Allen-Bradley Kinetix 5300 drives target global machine-builders looking to boost performance and adopt a single environment — Rockwell's Studio 5000 — for control and motion programming of all of their drives.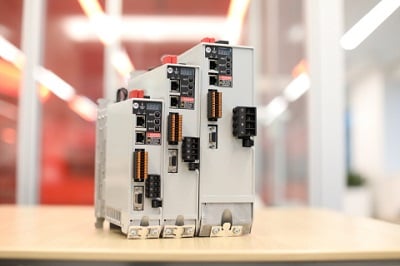 Source: Rockwell AutomationThe Kinetix 5300 servo drives are designed for diverse machine applications such as electronics assembly, packaging and converting, printing and web. Like other Kinetix integrated motion drives, Kinetix 5300 leverages Studio 5000 as a single design environment. Using a single family of servo drives allows machine builders to program all their drives in this one design environment and reuse code across drives, streamlining the design and commissioning process. Kinetix 5300 native integration with Logix control enables smart tuning capabilities that adjust for changes in inertia and resonances automatically, helping to optimize machine performance and simplify machine maintenance over time.
Designed with all the essentials covered — such as a comprehensive power range, dual ethernet ports and hardwired Safe Torque Off, the Kinetix 5300 proves to be an excellent choice right-sized for those building or modernizing machines with lower axes count. Features such as tracking notch filters and load observers help simplify commissioning and keep the machine running smoothly with automatic adjustments.