A new developer kit from Festo enables system designers and machine builders to familiarize themselves with the functions and application possibilities of the company's CMMT servo drives.
The Festo CMMT developer kit allows users to explore the ease of installation, powerful networking capabilities and simple commissioning software available to help them specify and become familiar with the configuration of the best servo drive for their application.
Festo's CMMT range of servo drives includes the high power CMMT-AS and the miniature CMMT-ST, which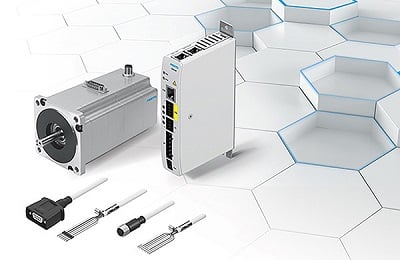 Source: Festoneeds less than half the installation space. The developer kit provides users with a risk-free application development tool that enables them to try out CMMT servo drive capabilities and evaluate the connectivity available through Festo's Automation Suite at their own pace. It also enables easy replication across the range functionally at a very low initial outlay.
The developer-kit contains:
• The CMMT-ST extra low voltage servo drive controller
• An EMMS-ST-42 servo motor
• Encoder cable (1.5 m)
• Motor cable (1.5 m)
The CMMT-ST servo drive controller makes connectivity simple. Users choose between EtherCAT, PROFINET, EtherNet/IP and Modbus protocols to integrate the CMMT servo drive seamlessly into the system environment of their chosen PLC. Necessary plug-ins and function blocks are provided — at no additional cost — for integration into host systems such as Festo, Siemens, Beckhoff, Rockwell and Omron environments.
Users of the developer kit can utilize Festo's free "Positioning Drives" software to quickly size and select the correct components. They can then use the Automation Suite software for quick and easy commissioning of the drive system in just five steps. The positioning drives project can be imported into the Automation Suite, making the commissioning process even easier. E-Plan schematics and macros are also provided in the package, enabling developers to see how easy it is to speed up technical documentation using these tools.