A stent-based electrode implanted as a brain-computer interface has been demonstrated to enable two patients with severe paralysis to resume many daily tasks. An international research team confirmed that the neuroprosthetic implanted via a patient's blood vessels can restore the transmission of brain impulses.
The small, flexible Stentrode device developed by California-based Synchron safely passes through curving blood vessels in an implantation procedure that does not require open brain surgery. The implant encases 16 sensors on an 8 mm × 40 mm nitinol scaffold connected to a 50 cm flexible transvascular lead. A power supply and transmitter are also inserted under the skin in front of the shoulder to form a minimally invasive brain-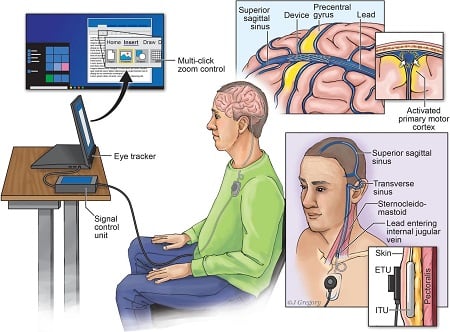 Diagram of the endovascular motor neuroprosthesis system. Source: Thomas J Oxley et al.machine interface capable of translating thoughts into action. The wireless solution provides high-resolution neural data transmission and operates in concert with a brain-controlled, hands-free app platform that translates brain impulses into a standardized digital language.
Two amyotrophic lateral sclerosis patients used the Stentrode to control the computer-based operating system in combination with an eye-tracker for cursor navigation. The subjects undertook machine learning-assisted training to control multiple mouse click actions, including zoom and left click, and achieved average click accuracies greater than 90%. The patients used the neuroprosthesis to resume daily activities independently, including text messaging and managing finances, and began unsupervised home use of the system from day 86 and day 71, respectively.
Researchers from the University of Melbourne (Australia), Synchron Inc. (California), Calvary Health Care Bethlehem (Australia), Stanford University, Melbourne Health (Australia), Austin Health (Australia), Royal Melbourne Hospital (Australia), Battelle Memorial Institute (Ohio), Monash University (Australia), Carnegie Mellon University, Oxford University (U.K.), Harvard University and the Mount Sinai Health System (New York) participated in this study, which is published in the Journal of Neuro Interventional Surgery.