Smart socks are helping physiotherapists better assess and treat patients during video consultations by providing information on weight distribution and range of movement during exercises like steps, squats or jumps.
The wearable technology developed by University of Melbourne, Australia, researchers was tested with three patients and a physiotherapist at the Royal Children's Hospital from February to June 2017. Since Australian physiotherapists are increasingly reliant on video consultations to treat rural and remote patients, the SoPhy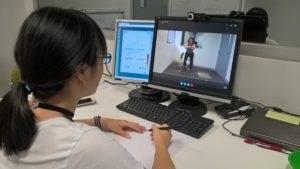 Information from the sensors in the socks is displayed in a video consultation. Source: Deepti Aggarwal, University of Melbournesock system reduces the time and cost for patients traveling to the hospital.
The technology consists of three sensors embedded in socks that patients wear while performing exercises, and a web-interface that displays the captured data in real-time for the physiotherapists. In the clinical trial, involving patients with chronic pain, SoPhy was shown to increase the physiotherapists' confidence in their assessments by providing information that wasn't visible in the video. The information also helped them correct their assessment when the visual cues were misleading, allowing them to adapt the exercises based on the patient's condition.
The socks currently cost around AUS$300 to produce and would primarily be made available to patients who are working with a physiotherapist through tele-consultation. This might sound expensive for a pair of socks, but in cases where patients need years of treatment, the cost of travel and accommodation would far outweigh this — and would also allow those with disabilities to access care where they otherwise might not be able to travel.