Carlo Gavazzi has launched the RSBS series, a compact, single-phase soft-starter. The RSBS is designed for single-phase compressors and is an ideal solution in single phase voltage networks that are prone to voltage fluctuations.
The high inrush current caused by starting compressors in these conditions can cause light to flicker, fuses to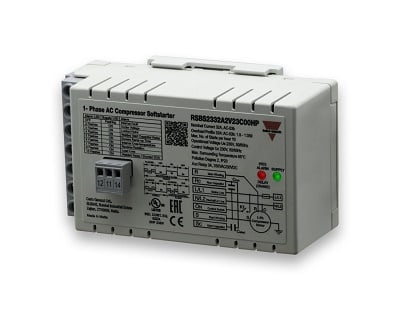 Source: Carlo Gavazzitrip, generators to stall and other disturbances. The RSBS uses a current limiting algorithm to reduce compressor start current by more than 50% when compared to direct online starters. Its control algorithm automatically detects when the compressor reaches full speed to make sure that the internal bypass relay switches ON when the current is at an optimum level. The RSBS can limit inrush currents up to 45 A under balanced conditions with a maximum ramp-up time of 600 milliseconds. Its special HP function ensures the compressor receives enough starting torque by allowing a maximum current of 80 A even when the pressures are not balanced.
The series is ideal for scroll compressors and piston compressors used in HVAC and refrigeration applications. Download the datasheet for additional information.