One of the most significant goals of computer engineering today is entering the realm of the exascale: The point at which computing systems can process operations at a rate equivalent to that of the human brain.
That rate is estimated at 1018 floating point operations per second, or 1 exaFLOPS. This level of performance creates opportunities for technological "convergence," wherein unrelated technologies becoming closely integrated or even unified as they advance. Convergence is relevant to the ongoing development of automobiles, handheld devices, the internet of things (IoT) and other systems dependent upon real-time data integration from multiple sources.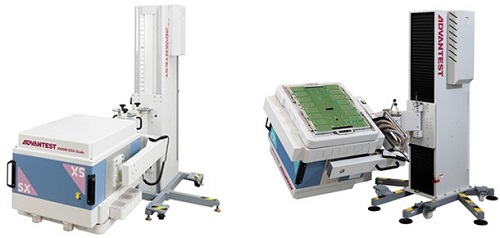 Advantest has rolled out advancements on its existing V9300 architecture. Source: AdvantestMaintaining this computing benchmark requires not only robust supercomputers, but also powerful test equipment. Seen in this light, the recent announcement of a next-generation test system from Tokyo-based Advantest Corporation is a promising step toward achieving the exascale goal.
According to the company, innovative advancements on its existing V93000 architecture address the challenges of very high scan-data volumes, extreme power requirements, fast yield-learning and high-multisite configurations. The V93000 EXA Scale system employs the company's patented Xtreme Link technology, a communication network designed specifically for automatic test equipment (ATE). The technology provides high-speed data connections, embedded computing power and instant card-to-card communication.
The system also features a new digital card, the Pin Scale 5000, with 5 Gbit/s speed designed to address the explosion of scan data volumes inherent to large digital designs. In addition, the XPS256 power supply card offers fine-granular power, unlimited and flexible ganging and a high level of static and dynamic performance. The 256-channel architecture of the cards, moreover, offer a double-density configuration that allows small physical systems to save on infrastructure cost and floor space requirements.
"As we move into the era of exascale computing, the extreme test challenges that our customers are facing in the areas of performance, cost-of-test, quality and time-to-volume are all addressed with the innovations that EXA Scale brings to the time-tested V93000 platform," said Juergen Serrer in a press release about the system. Serrer is managing executive officer and executive vice president of the Advantest's V93000 Business Unit.
The company has already shipped dozens of the V93000 EXA Scale systems to multiple industry-leading customers. This reflects the company's commitment to smooth platform transition and ensures that existing V93000 load board and Smart Scale cards are compatible.
For more information, visit Advantest.