Before the circuits of a semiconductor wafer are diced and packaged, they are typically tested and validated using probe cards — devices that use contact elements to create an electrical path between the circuits and an electronic test system. Probe cards touch down upon the wafer, which over time results in a buildup of contamination requiring cleaning.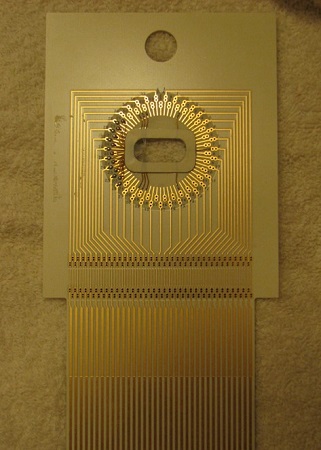 A probe card used in wafer testing. Source: Ajoones/CC BY 3.0Test and measurement equipment manufacturer Advantest Corp. said probe card expenses are an emerging challenge in testing — particularly as pin count and functional complexity increase. Chipmakers typically implement a fixed-cycle online cleaning method, requiring a learning curve to determine the ideal cleaning-to-yield-loss trade-off and an investment of time to ramp new devices.
Advantest's solution is to optimize the cleaning cycle through what it calls an "adaptive interval" solution. It uses artificial intelligence (AI) algorithms to assess the dirtiness of needles, cleaning them only when yields are being affected. A machine-learning model learns the failure pattern of a pre-fixed cleaning cycle from the first wafer in a lot, then shifts to adaptive cleaning for the rest of the wafers in the same lot. According to the company, the assessment takes negligible time per wafer, avoiding an impact on test throughput — and drastically reducing cleaning frequency.
The solution has been implemented by semiconductor device maker ST Microelectronics at two of its manufacturing sites, resulting in significant reduction in cleaning cycle times that has improved yield, lengthened the probe card life cycle and increased available time for system testing.
Advantest said its adaptive probe cleaning (APC) solution, part of its Advantest Cloud Solutions (ACS) ecosystem, is an industry first. It works with all existing ATE platforms and wafer probers, without requiring program modification or the use of specific parametric data. It has also been shown to operate seamlessly in combination with dual probe card cleaning sheets at different cleaning frequencies.
"Customers conducting wafer sort testing will reap the benefits of our adaptive interval technology by way of significant yield stabilization and probe card cleaning and maintenance optimization, resulting in total test cost reduction and productivity gains," said Titan Chang, executive officer, Field Service Group, for Advantest.