Advantest Corp., headquartered in Chiyoda-ku, Tokyo, Japan, has selected the R&S RTP high-performance oscilloscope for mass production evaluation of high speed system-on-chip (SoC) testers. The R&S RTP is part of Advantest's continuous efforts to improve quality and was a key factor in updating the company's verification environment to meet evolving requirements. The decision for Rohde & Schwarz indicates that the long-term relationship between Advantest and Rohde & Schwarz will continue.
Advantest selected the R&S RTP high-performance oscilloscope for its excellent signal integrity and high acquisition rate. The R&S RTP features real-time processing with an in-house developed, high-performance,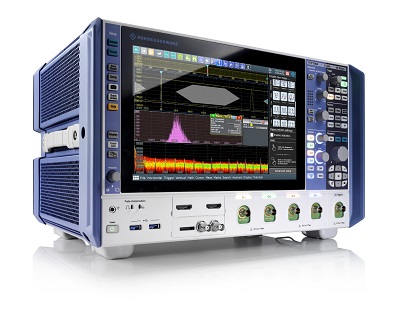 Source: Rohde & Schwarzlow-distortion A/D converter, an analog frontend and an exclusively developed, large-scale logic ASIC for the backend. Despite its compact form factor, the R&S RTP enables extremely accurate measurements at unprecedented speeds.

The R&S RTP 16 GHz bandwidth model for mass production evaluation of high-speed SoC testers has a high-speed rise time of 33 psec and a powerful, highly stable jitter analysis function with the latest decomposition algorithm, which enables simpler and more accurate system measurements. These benefits convinced Advantest to decide for the R&S RTP.

Noriaki Fukushima of the Advantest SoC test business headquarters said, "The introduction of the R&S RTP and building of a new shipping inspection line helped strengthen our production line in response to increased demand. We were also able to enhance options for replacing aging production equipment. In the future, we will expand our use of the R&S RTP164 to promote robust operation of measuring instruments in production."