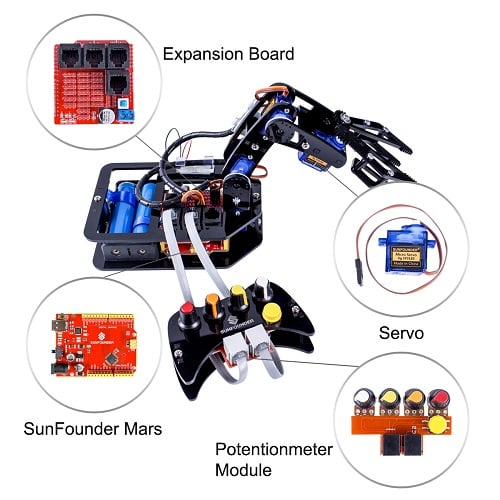 The STEAM robot arm kit. Source: HamiltonBuhlHamiltonBuhl has introduced a science, technology, electronics, art and math (STEAM) robotics kit based on the Arduino maker platform.
The kit allows students and teachers to build a four-axis programmable or manually operated robotic arm that is easy to assemble and can be used to program up to 100 movements. The robo-arm features double-layered, jagged-edged and pointed grippers; four servos to control four joints, servo expansion board and remote control board.
"STEAM subjects like electronics, automation, robotics and coding are absolutely vital in today's world," said Eva Boker Vice President of Marketing at HamiltonBuhl. "Technology literacy has become a necessity throughout all levels of education and continues to be an important factor when students enter the workforce. Especially now as STEM occupations are projected to grow at a faster rate compared to non-STEM jobs, the Robo-Arm Kit is an incredible step forward into the world of STEAM education."
The company said the kit allows students to see their work come to life and assists teachers in creating a learning environment for in-demand STEAM education.