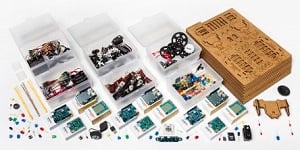 The CTC101 educational toolbox. Image credit: RS Components
RS Components has started shipping an education toolbox for instructors to teach school students from ages 13 to 17 science, technology, engineering, arts and mathematics (STEAM) skills.
The Genuino Creative Technologies in the Classroom 101 (CTC101) toolbox is Arduino based and provides a foundation for programming, electronics and mechanical experiments through a hands-on approach. The package comes with video tutorials and step-by-step instructions for a better learning experience for students.
The 700 components toolbox includes six Genuino 101 boards (a microcontroller with programmable inputs and outputs), six education shields that are placed on top of the Genuino board, sensors (button inputs, knock sensors, potentiometers, touch/capacitive sensors, title sensors, light sensors, LEDs, buzzers, speakers), component modules and connectors.
RS Components says the kit allows teachers to learn about programming and physical computing and adapt lesson plans based on these techniques. Students get a head-start in programming, build functional interactive projects, explore robotics and learn problem solving and teamwork skills.