New Yorker Electronics has released the Good-Ark Semiconductor low capacitance DFN0603 electrostatic discharge (ESD) protection diodes in an ultra-small, space saving 0201 package. This series provides low leakage, fast response time and low clamping voltage.
The Good-Ark devices are specifically designed to protect sensitive components connected to data and transmission lines from overvoltage caused by ESD and EFT (electrical fast transients). With its ultra small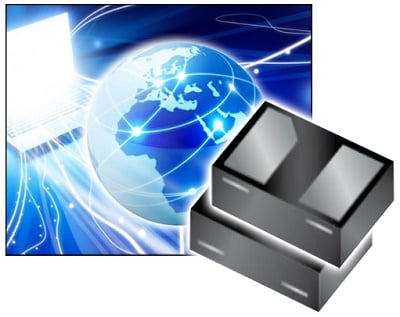 Source: New Yorker Electronicsfootprint and super low profile, these devices are ideal for smart phones, USB3.0 and other portable applications that have space constraints.
Additionally, Good-Ark maintains the highest quality and environmental standards. The company has been certified in Quality: ISO9001: 2008, Automotive: ISO/TS16949, Environment: ISO14001 & QC080000, Health and Safety: OHSAS18001, and Information Security: ISO/IEC27001.
New Yorker Electronics supplies the full line of Good-Ark Semiconductor products including semiconductor diodes, rectifiers, bridge rectifiers, protection devices (TVS, chip fuse and thermistor) and metal-oxide-semiconductor field-effect transistor (MOSFETs) (small signal and power MOSFETs supported by trench technology) in through-hole to surface mount devices as well as wafer/bare die for hybrid applications.