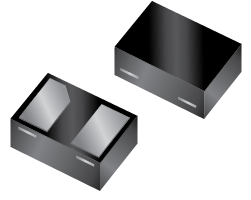 Now available: a new low-capacitance DFN0603 ESD protection diode series. Source: Good-Ark SemiconductorLow leakage current, low capacitance and low clamping voltage: these are some of the features offered by a new transient-voltage-suppression (TVS) diode series from Good-Ark Semiconductor. According to the company, the fast-response devices are specifically designed to protect sensitive components connected to data and transmission lines from overvoltage caused by electrostatic discharge (ESD) and electrical fast transients (EFT).
The series is packaged in an ultra-small, space-saving DFN0603 (0201) package. Applications include smartphones, USB 3.0 and other portable applications with space constraints. The devices can also be used in technologies including high-definition multimedia interface (HDMI), digital visual interface (DVI), IEEE 1394 firewire ports, audio lines and speakers, gigabit ethernet and low-voltage differential signaling (LVDS). They are RoHS compliant and halogen free. Both bi-directional and unidirectional configurations are available.
The new diode series is just one of many products at which attendees can get a closer look during the APEC 2019 power electronics conference, which runs March 17-21, 2019 in Anaheim, California. For more information on the diode series, including a ratings and characteristics chart, visit the product page on Good-Ark Semiconductor's website.
For more on the conference, visit our dedicated section Electronics360 covers APEC 2019.