Advantest Corp. has announced the sale of its new semiconductor test equipment that allows for non-destructive and high-resolutions analysis on circuit faults in advanced semiconductor packages such as flip chip ball grid arrays (BGAs), wafer level packages and 2.5D/3D ICs.
The TS9001 TDR system provides semiconductor manufacturers with the help needed to address a variety of failure analysis requirements. The semiconductor test technology and terahertz failure analysis technology support the development of semiconductor supply chains.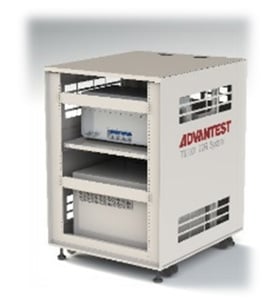 The TS9001 TDR system. Source: AdvantestThe system uses an ultra-short pulse signal processing technology with a higher distance-to-fault resolution of 5 μm and precise fault location identification with a class measurement time of 30 seconds. The test equipment can be configured with a high-frequency probing system owned or selected by the customer. Connecting the TS9001 to a high frequency probing system along with a high-resolution microscope failure analysis of devices with a micro bump of minimum diameter 50 μm is possible.
Failure analysis of devices kept in low/high temperatures is also possible if the system is connected to a high-frequency probing system with a thermal-system function.