Uber Technologies Inc. this week signed an agreement to acquire food delivery vendor Postmates in a $2.65 billion deal. While the move will obviously increase Uber Eats' presence in the food delivery market, new innovations are likely to be the key to future success for the combined companies.
Under the agreement, Postmates and Uber Eats will serve different geographic focus areas and different customer demographics, but under the same banner. Uber said the acqusition will also help in its efforts to expand its delivery business for groceries, essentials and other goods in addition to deliveries from restaurants.
The combination of Postmates and Uber Eats would claim a 37% share of food delivery sales in the U.S. with DoorDash remaining the largest player with 45% and Grubhub with 17%, according to Edison Trends.
"Uber and Postmates have long shared a belief that platforms like ours can power much more than just food delivery — they can be a hugely important part of local commerce and communities, all the more important during crises like COVID-19," said Dara Khosrowshahi, CEO of Uber.
While the expansion of deliveries is probably Uber's primary motivation for the acquisition, the combination of technology innovations from the companies will likely drive the future of food and goods delivery into the future.
Self-driving deliveries
Uber's self-driving car development has been through the wringer over the past two years after one of its self-driving test vehicles killed a pedestrian in a traffic incident. After this happened, Uber suspended all of its testing operations on self-driving vehicles including laying off a good portion of its staff working on the vehicles.
The incident also caused Uber to shutter its autonomous truck program and shift all the work and employees to the self-driving car division. After a year of tumultuous development, Uber rebranded its autonomous vehicle program as Uber Advanced Technology Group (ATG) and raised $1 billion from Toyota Motor Corp., Denso Corp. and SoftBank Vision Fund to accelerate its automated ridesharing service.
While Postmates has not dipped its toe into the automated delivery world, Uber increasing its market share for food delivery will no doubt accelerate the move to automated driving to make deliveries more efficient and widespread. The outbreak of COVID-19 has changed how society acts and social distancing encourages as little human interaction as possible. When autonomous vehicles are ready to go, this will help prevent future viral outbreaks while allowing goods to still be put in the hands of consumers.
Uber resumed testing of autonomous vehicles for on-road testing six months after the death of a pedestrian in Pittsburgh and just this year expanded its testing back to public roads in California, two years after tests were halted.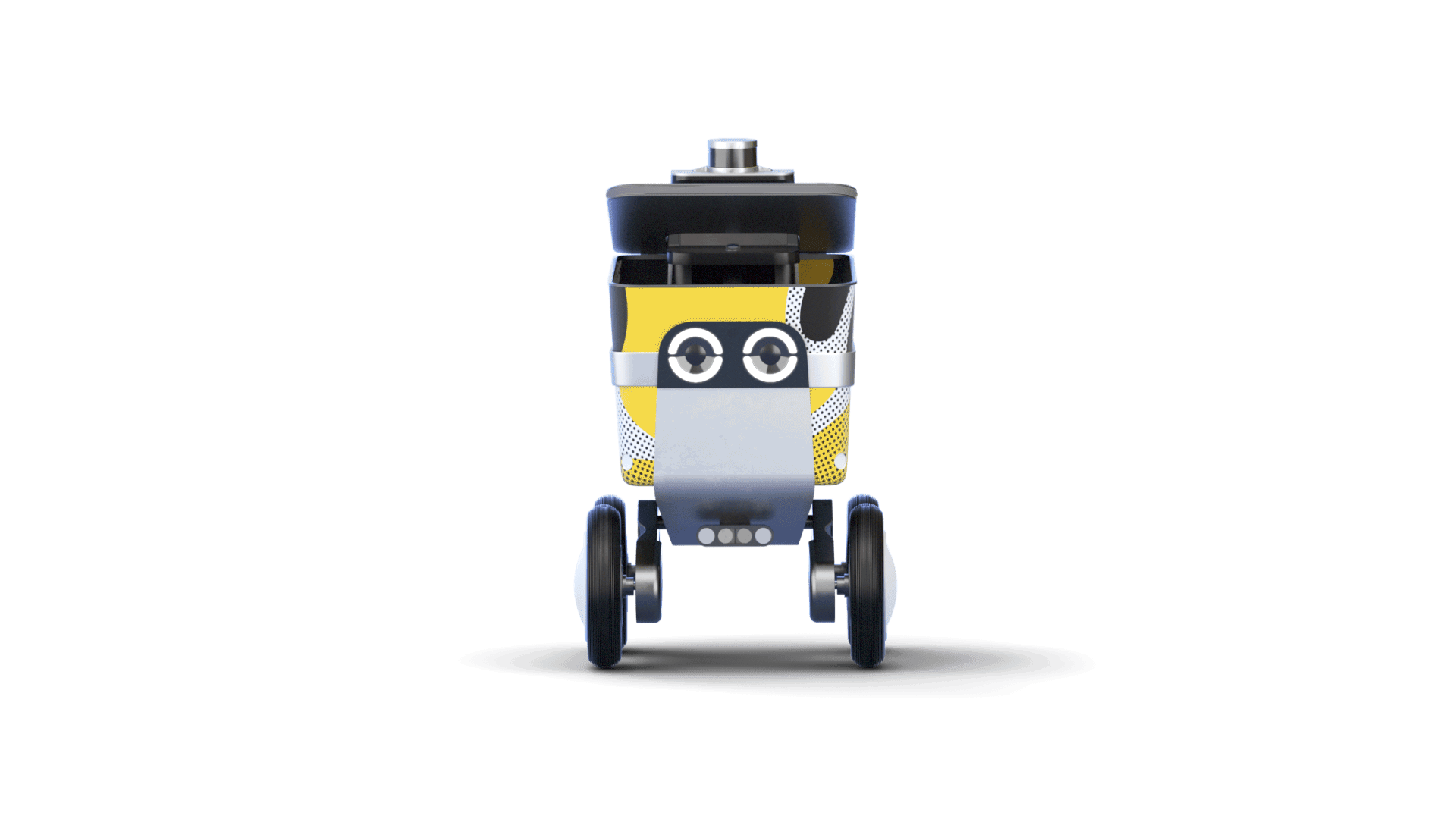 Postmates' autonomous robot called Serve could be used by Uber to deliver food in the future. Source: Postmates
Autonomous robots
While Postmates has not ventured into the realm of automated vehicles, automated robots is something that the delivery company has been working on and Uber will now have this portfolio to further its Uber Eats platform.
Postmates introduced Serve two years ago in its efforts to test multiple autonomous delivery modes and make on-demand delivery more efficient. Serve is designed to work alongside the existing Postmates fleet to move small objects over short distances, running on electricity and routing deliveries away from congested streets and onto sidewalks.
Serve uses lidar and Nvidia's Xavier processor to navigate the streets and route destinations, bypassing pedestrians and other obstacles. It can carry 50 pounds of cargo and travel up to 30 miles on a single charge.
The only interaction with customers is through a touchscreen to accept the items from the delivery robot. The robot has dynamic lighting in its eyes and a light ring on top to signal movement to pedestrians and direction changes.
Postmates said the goal of Serve is to make food deliveries more efficient and to free up drivers to serve different customers in other regions. Postmates worked with automotive companies and its in-house robotics supply chain to test delivery routes on sidewalks in numerous states without impacting drivers so no human driver would be impacted by the fleet of autonomous robots.
Flying deliveries
One of the far-off future methods of delivery is in Uber's air taxies that have been under development for a few years. Air taxis, under the Uber Elevate brand, would involve using electric vertical take-off and landing (e-VTOL) architecture for aerial ridesharing.
However, Uber has also been toying with the idea of using the flying vehicles to accelerate the time it takes to get food into the hands of consumers. Uber is developing a variety of vehicles under its Uber Elevate division including a full blown air taxi prototype that was unveiled at this year's CES 2020 in partnership with Hyundai.
The first concept air taxi as a result of the Uber and Hyundai partnership will be a personal air vehicle (PAL) model called the S-A1 that features an electric vertical take-off and landing (eVTOL) architecture for aerial ridesharing. The S-A1 can reach cruising speeds of up to 180 miles per hour, a cruising altitude of about 1,000 to 2,000 ft above ground and flying trips up to 60 miles.
While these vehicles have a long way to go before they are prevalent in the market and viable for delivery or for passengers, they will likely get goods into the hands of consumers quicker than current methods.