At CES 2020, taking place in Las Vegas Jan. 7-10, ride-hailing giant Uber has struck a deal with Hyundai Motor Company to develop Uber Air Taxis for an aerial rideshare network fleet.
Hyundai is the first company to join the Uber Elevate program and the initial flying car concept was created through Uber's open design process.
Through the partnership, Hyundai will produce and deploy the air vehicles and Uber will provide airspace support services, connections to ground transportation and customer interfaces through its aerial rideshare network. Both parties are collaborating on infrastructure concepts for take-off and landing for the flying cars.
The first concept air taxi will be a personal air vehicle (PAL) model called the S-A1 that features an electric vertical take-off and landing (eVTOL) architecture for aerial ridesharing. The S-A1 can reach cruising speeds of up to 180 miles per hour, a cruising altitude of about 1,000 to 2,000 ft above ground and flying trips up to 60 miles.
The all-electric vehicle will use distributed electric propulsion and during peak hours will require about a five to seven-minute recharging sequence. This propulsion will power multiple rotors and propellers around the airframe to increase safety. Hyundai said having multiple smaller rotors will reduce noise compared to large roto helicopters with combustion engines, something that will be important if these air taxis are flying over large cities multiple times during the day and night.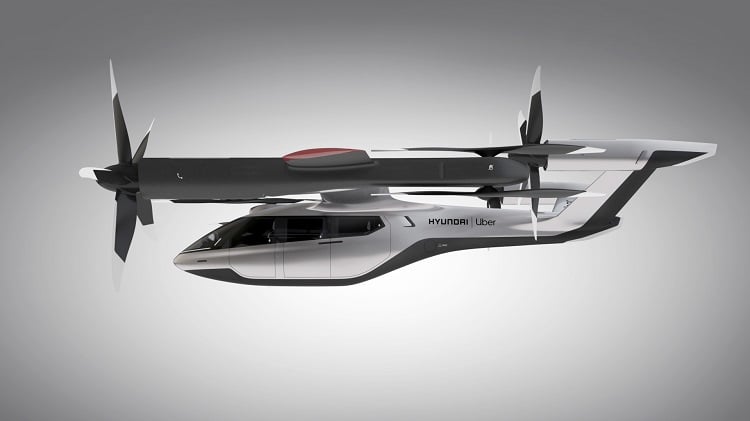 The S-A1 could fly up to 180 mph with trips up to 60 miles. Source: Hyundai
Hyundai said that initially the flying cars will be piloted, but will eventually be autonomous with the ability to carry four passengers and their carry-on items.
The PAL vehicle is part of Hyundai's concept for future urban transportation. The concept flying car would work with Hyundai's other ground transportation concept, the purpose built vehicle (PBV), a pod-like vehicle that could be tailored to different services from transportation to restaurants, coffee shops and even a hotel.
Uber Elevate is following NASA's approach of releasing design concepts to the public to inspire how other companies may develop and build vehicles, including new aerodynamic concepts, wing design, noise, aerodynamics and simulation verification.