New Yorker Electronics has released the new Excel Cell Electronics' 3.0 super speed USB that has shown to be three times faster than standard USB connectors. Designed for applications in smart phones, digital cameras, laptops and notebooks and for handheld devices, the connectors have EMI protection shielding options and its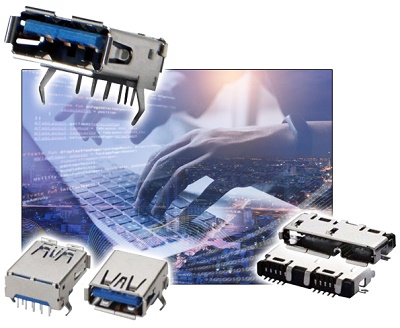 Source: New Yorker Electronicsgold plating contacts ensure low resistance.
Both new devices distributed by New Yorker Electronics combine the USB2.0 bus with the new ECE USB 3.0 specification compliance data transmission SS (super speed) bus with a transfer rate up to 5.0 Gbps. They both accommodate backward compatibility for connecting to the USB 2.0 device. Input current is increased to 900 mA to save charging time and they also have a receptacle and plug housings are UL 94V-0 grade fire retardant.
The ECE ESB23/1A standard female type miniature USB 3.0 is a 9 pin connector that is fully compliant with current USB 3.0 A type specifications. The ECE ESB22712 is a 1,000 mA micro AB type that accepts either a USB 3.0 micro-B plug or a USB 3.0 micro-A plug for connection. The 10-pin (one ID pin) type is also at a 0.65 mm pitch and is also fully compliant with current micro USB 3.0 specifications.