Stewart Connector, a Bel group company and manufacturer of high-speed connectors used in data communications, announces the addition to the USB 3.0 type-A connector product offering with the release of a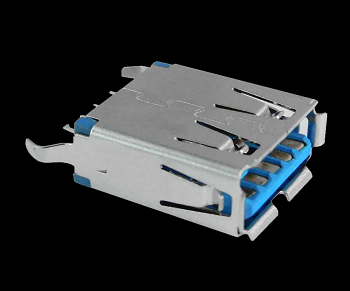 Source: Stewart ConnectorUSB 3.0 type-A vertical connector.
Stewart USB connectors are designed to support data speeds up to 5 Gbps for USB 3.0. The USB type-A connector design has plug/play capabilities where hot insertion/ejection may occur without issue, under a load. Stewart USB connectors are plated with 30 micro-inches of gold on each contact. USB 3.0 connectors are rated to withstand a peak current of 1.8 A per contact. Stewart's Vertical USB connector is rated for IR reflow and wave soldering process.
Stewart's USB 3.0 connectors are designed to meet the increasing demand for economic solutions where space and faster data rates are a premium. These small form factor, very robust and highly reliable USB connectors are used in IoT devices, laptop and desktop computers, and servers.
For more information, download the USB 3.0 Type-A Connector datasheet or for technical help contact techhelp@belf.com. Products are also available through distributors Digi-Key, Mouser and Newark.