A hydrogen-powered drone has delivered 15,000 protective face masks to residents on Gapa, Mara and Biyang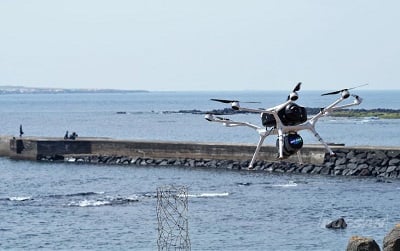 The hydrogen fuel cell drone delivering face masks. Source: DMIIslands in South Korea in response to the coronavirus pandemic. The delivery by Doosan Mobility Innovation (DMI) will provide the 490 residents with a three-month supply of the protective equipment.
[See also: Delivery drones may be key to fighting future pandemics]
The delivery marks the first beyond visual line of sight flight conducted for COVID-19 relief. The autonomous mission flight of the DMI drone DS30 covered 30 km and demonstrated stable operation at a speed of 5 m/second in winds of 10 m/second. The hydrogen fuel cell drone, which weighs 21 kg with a 10.8 liter fuel tank, is capable of flight for two hours with a 5 kg payload and can cover 40 km under fair weather conditions, which is 13 times more area than conventional battery drones.
The government of Jeju Special Self-Governing Province is working with DMI to expand drone service for continued contactless delivery of medical supplies.