Since the days of the Sony Walkman, the market for headphones has decreased in physical size to the point where earbuds have become the latest craze.
Apple introduced its first generation of AirPods in 2016 as Bluetooth earbuds that were wireless for extra portability. Since that time, the company has only improved its design with the AirPods Pro for its connected devices including the iPod, iPhone, iPad and more.
This teardown focuses on the AirPods Pro with its accompanying charging case that was released late last year. The headphones include two Bluetooth modules, active noise canceling and a wireless charging case.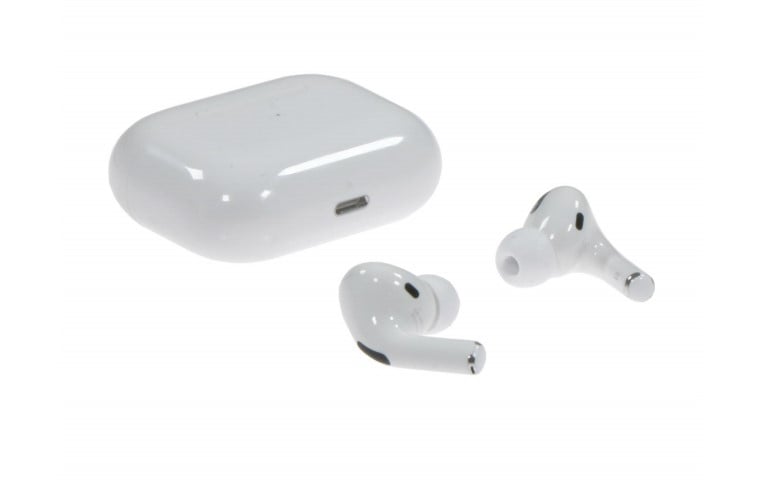 The Apple AirPods Pro with charging case. Source: Omdia
Summary points
Apple's Bluetooth wireless headset with charging case
Bluetooth module contains Apple H1 system-on-chip
Active noise canceling
Wireless charging case
Target market: Mass market
Released: Oct. 2019
Pricing: $249
Availability: Worldwide
Total manufacturing costs: $51.47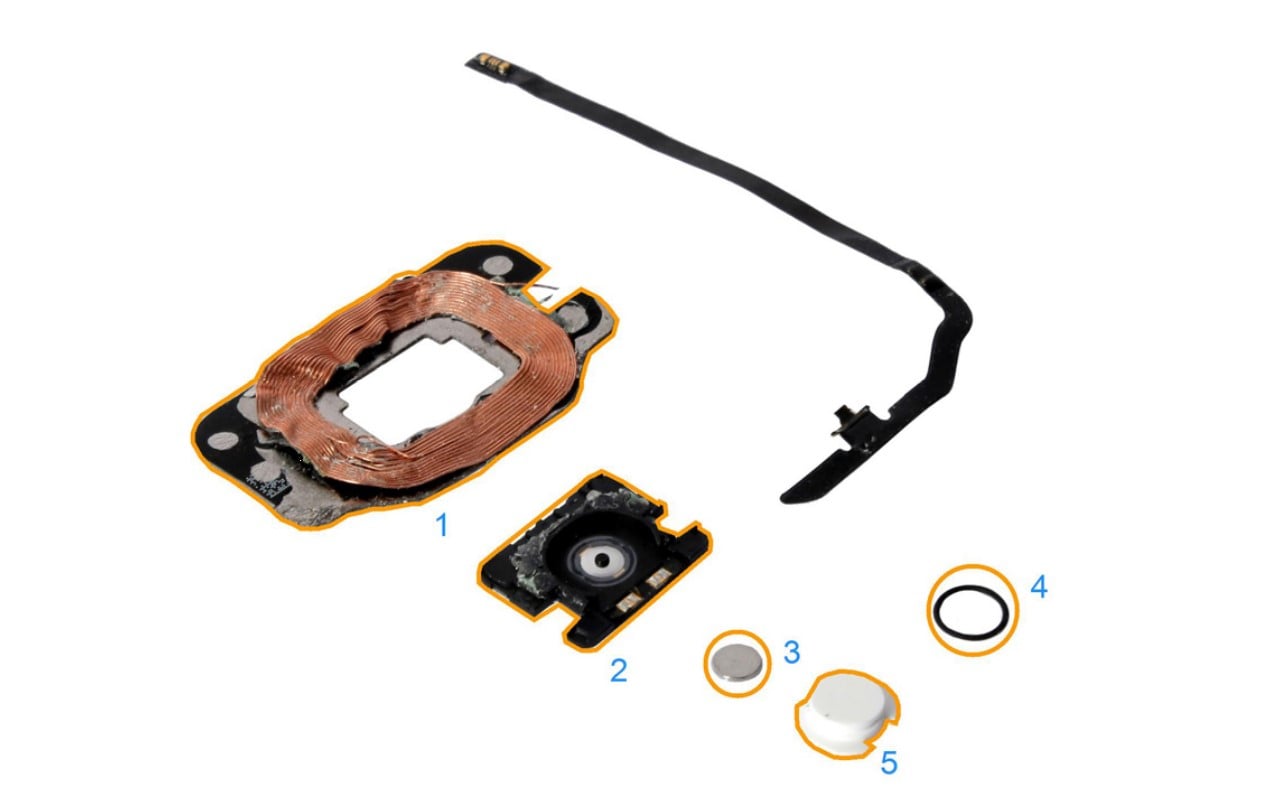 The components inside the charging case of the AirPods Pro. Source: Omdia
Charging case
1. Wireless charging coil, copper coil on flexible substrate, w/ferrite sheet on copper foil, w/PSA
2. Setup button PCB assembly, injection molded plastics w/dome switch w/four gold-plated contracts
3. Setup button spacer, machined metal w/black mylar tape
4. Gasket, injection molded TPE
5. Setup button, injection molded plastic
Charging case PCB
1. Broadcom, BCM59356, wireless charging receiver, WPC Qi compliant
2. ST Microelectronics, STM32L476MGY6, MCU 32 bit ARM Cortex-M4 core, 80 MHz, 1 MB flash and 128 KB SRAM, three 16 channel 12 bit ADCs, 65 GPIOs
3. Texas Instruments, BQ25116AYFPR battery charger
4. Bosch Sensortec, accelerometer, 3-axis
5. EEPROM
Left ear headphone enclosure
1. Enclosure, left ear, main injection molded plastic, clear coat printed
2. Loudspeaker windscreen, metal mesh, die-cut with mylon mesh and foam rubber cushion
3. Internal antenna bracket, injection molded plastic with LDS antenna with 124 mm 0.4 mm OD coaxial wire and coaxial plug
4. Charging contact, injection molded plastic with two plated machined metals
5. Antenna cover, stamped/formed stainless steel
6. Two layer, flex Kapton with three metal tabs
7. Two layer, flex Kapton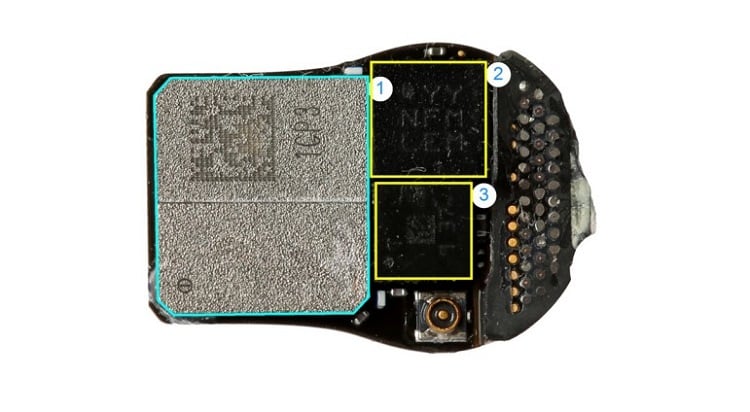 The semiconductor components inside the right ear PCB of the AirPods Pro. Source: Omdia
Right ear main PCB
1. Bluetooth module, contains Apple H1 system-on-chip, Bluetooth V5.0
2. Bosch Sensortec, accelerometer/gyroscope
3. ST Microelectronics, accelerometer, three axis
Major components:
$3.73 — Bluetooth module, contains Apple H1 SoC, Bluetooth V5.0 (Qty: 1)
$3.73 — Bluetooth module, contains Apple H1 SoC, Bluetooth V5.0 (Qty: 1)
$2.78 — SiP Module A, contains Dialog D2508B and Cirrus Logic CS44L22, w/ADI AD7149-6ACBZ Touch Controller (Qty: 1)
$2.78 — SiP Module A, contains Dialog D2508B and Cirrus Logic CS44L22, w/ADI AD7149-6ACBZ Touch Controller (Qty: 1)
$2.30 — Battery pack, li-polymer, two-cell, 3.81 V, 519 mAh, 1.98 Wh, w/Flex PCB and board-to-board connector (Qty: 1)
$1.71 — Two-layer, FR4, lead-free (Qty: 1)
$1.71 — Two-layer, FR4, lead-free (Qty: 1)
$1.35 — MCU, 32 bit ARM Cortex-M4 Core, 80 MHz, 1 MB Flash and 128 KB SRAM, three 16 channel 12 bit ADCs, 65 GPIOs — MFR: ST Microelectronics (Qty: 1)
$1.15 — Battery, li-ion, coin type, 3.7 V, 43 mAh, 0.16 Wh — MFR: Vatra Microbattery Gmbh (Qty: 1)
$1.15 — Battery, li-ion, coin type, 3.7 V, 43 mAh, 0.16 Wh — MFR: Vatra Microbattery Gmbh (Qty: 1)