The market for video calling is heating up as broadband continues to penetrate the market in greater numbers.
Given recent events with the coronavirus, video calling has become a new source of keeping in contact with family and friends as social distancing has become the new reality. Families are using video conferencing and video calling in order to socialize given that they are required to stay in their homes.
The Facebook Portal TV is a device that allows people to view each other in a video call or watch news with improved clarity and uses Amazon Alexa built-in for control over smart home devices using voice control. Additionally, the device allows for messenger and Whats App calls.
The following teardown documents some of the components found inside the device as well as the major semiconductors found within.
Summary points
Wide angle camera unit with remote control unit
Eight digital MEMS microphones in camera unit
Two accelerometers and one electronic compass in remote control unit
Target market: Video calling
Released: Nov. 5, 2019
Pricing: $149
Availability: Worldwide
Total manufacturing costs: $82.11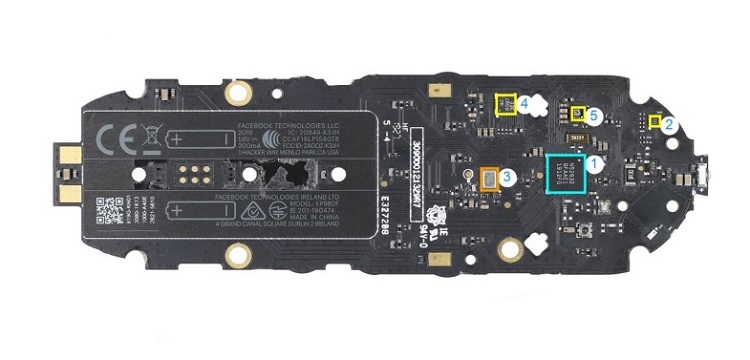 The components found inside the remote control unit of the Facebook Portal TV. Source: IHS Markit
Remote control unit PCB (Bottom)
1. Nordic Semiconductor, nRF52832-QFAA, Bluetooth Low Energy/2.4 GHz RF SoC, 32 bit ARM Cortex CPU, 64 KB RAM, 512 KB Flash
2. Bosch Sensortec, BMM150, electronic compass, three-axis
3. Knowles Acoustics, SPH6611LR5H-1, microphone element, MEMS, analog
4. Invensense, ICM-20602, accelerometer
5. ST Microelectronics, accelerometer, three-axis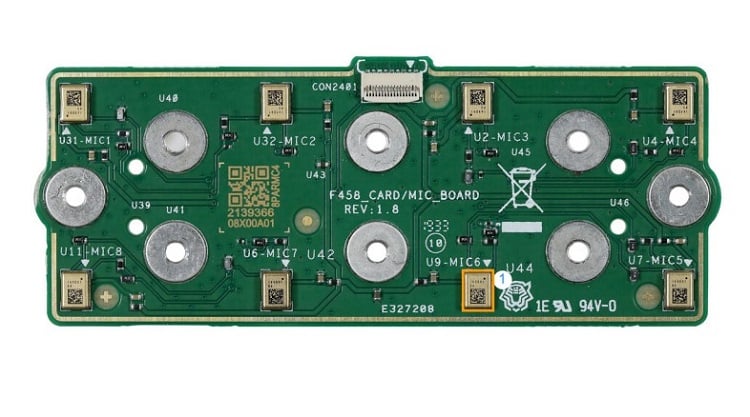 What's inside the bottom of the microphone PCB of the Facebook Portal TV. Source: IHS Markit
Microphone PCB (Top)
1. Infineon Technologies, IM69D1, microphone element, MEMS, digital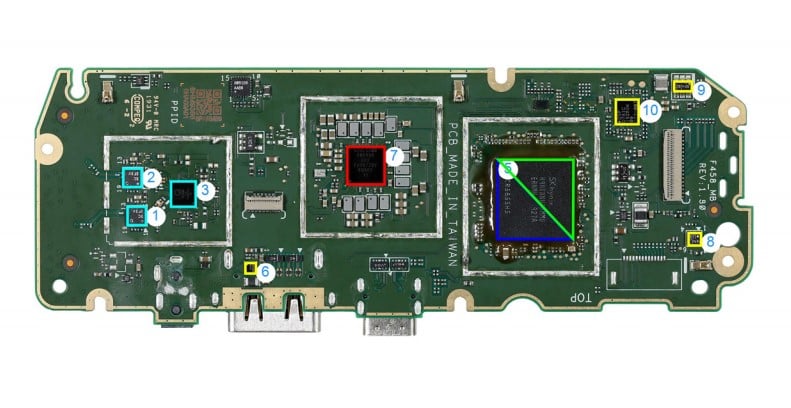 The top of the main PCB board found inside the Facebook Portal TV. Source: IHS Markit
Main PCB (Top)
1. Qorvo Inc., QM48858, FEM, WLAN, dual-band 2.4/5 GHz w/ integrated RF switch, filters, PA and L
2. Qorvo Inc., QM48858, FEM, WLAN, dual-band 2.4/5 GHz w/ integrated RF switch, filters, PA and L
3. Qualcomm, WCN3990, BT/FM/WLAN companion IC, IEEE 802.11 a/b/g/n/ac, Bluetooth V5.0, MU-MIMO, FM radio transceiver for Qualcomm Snapdragon
4. Qualcomm, APQ8098, apps process, Snapdragon 835 octa-core 64-bit Kryo 280 2.45GHz CPU, Adreno 540 GPU. 10nm FinFET, PoP
5. SK Hynix Inc., H9HKNNNCRMMU-ERN, SDRAM, LPDDR4X-37xx, 4GB, PoP
6. Texas Instruments, TPD5S115YFFR, HDMI companion IC, HDMI 1.4 w/ integrated step-up DC-DC converter I2C level shifter and ESD clamps
7. Qualcomm, PM8998, power management IC
8. Bosch Sensortec, GMA253, accelerometer, three-axis, 2g/4g/7g/16g, 12 bit digital output SPI/I2C interface
9. Richtek Technology Corp., RT4526GJ6, regulator, LED driver, DC-DC converter, asynchronous boost, 1 MHz
10. DSP Group Inc., DBMD7, audio/video processor
Major components
$29.53 — Apps Processor, Snapdragon 835, Octa-Core 64 bit Kryo 280 2.45 GHz CPU, Adreno 540 GPU, 10 nm FinFET, PoP — MFR: Qualcomm (Qty: 1)
$17.84 — SDRAM, LPDDR4X-3733, 4GB, PoP — MFR: Sk Hynix Inc (Qty: 1)
$8.35 — Flash, UFS iNAND, 32 GB, SLC — MFR: Western Digital Corp (Qty: 1)
$7.59 — 10-Layer, FR4/RCF HDI, any layer stacked via, lead-free — MFR: Compeq Manufacturing Co Ltd (Qty: 1)
$4.70 — Camera Module, 12.5 MP, BSI CMOS, 1/2.3 in format, fixed lens, 6P lens, wide angle (Qty: 1)
$3.66 — AC Adapter, 12 V, 2 A, 24 W, w/ 6.5 ft cord — MFR: Phihong Technology Co Ltd — (Qty: 1)
$3.39 — Main PCB top housing/heatsink, two-pieces die-cast aluminum, one-piece extruded/machined aluminum, nickel plated, w/ copper heatpipe (Qty: 1)
$2.86 — Audio/voice processor — MFR: DSP Group Inc (Qty: 1)
$2.27 — Power Management IC — MFR: Qualcomm (Qty: 1)
$1.92 — Microphone Element, MEMS, Digital — MFR: Infineon Technologies Ag (Qty: 8)