There are plenty of drones to see during CES 2020, taking place Jan. 7-10 in Las Vegas. There are taxi-like drones that carry passengers, there are drones for professional use and personal entertainment, and there are drones used to investigate the uncharted depths of the oceans.
This year, two underwater drones are making their debut at the world's largest tradeshow: the M2 from China-based Chasing, which was designed for the professional market; and the Navatics MITO, a remotely operated underwater vehicle (ROV) for hobbyists, divers, adventurers and swimmers.
The Chasing M2 is an observation underwater ROV with eight vectored thrusters for light-duty professional and enterprise use. The M2 is equipped with a digitally stabilized camera capable of 4K video and 12 megapixel stills as well as light emitting diode (LED) lights rated at 4,000 lumens. Chasing said the ROV can be a tool used for scientific research, fish farming and inspections of anything from boat hulls to reservoir dams. It can also travel to depths of 100 m.
The eight thrusters allow the ROV to be steered in all six directions as well as rotate and pitch with an improved depth-lock mode for stability control. A GoPro camera can be mounted to the front and rear of the M2 drone as well as extra lights and sensors that can measure the size of underwater objects, measure cracks or monitor the growth of fish.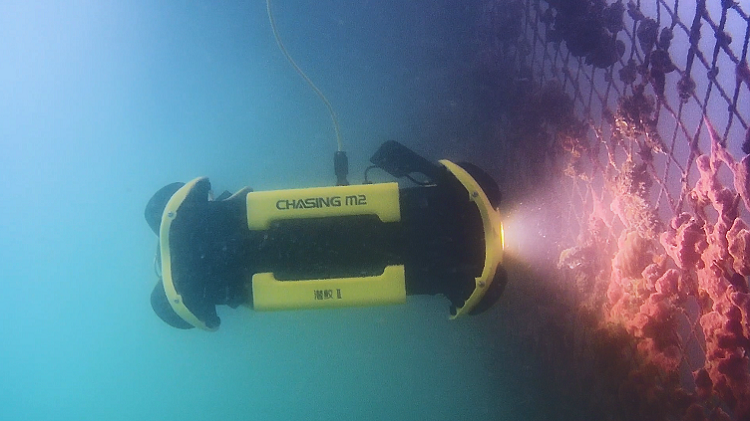 The M2 ROV drone is used to study marine life and for scientific research. Source: Chasing
"Current radio-operated submersibles for the professional market are often too big, heavy, and expensive for many governments, companies, and organizations," said Jacky Yang, co-founder and CMO of Chasing. "As a result, fish farming, hull inspection, reservoir dam inspection, rescue operations and other applications are currently ignored by the market. Just 10% of the global market is being served, with a segment worth some 60 to 80 billion yuan currently sitting undeveloped."
Meanwhile, Navatics has started mass production of its MITO ROV, which can be used by videographers, divers, hobbyists, fishers, adventurers and conservationists for both personal and professional uses.
The Navatics MITO features 4K video at 30 fps and can be used to explore waters up to 130 ft. The drone is piloted by remote control via smartphone and a mobile app for both iOS and Android, and it has the ability to stream video up to 1,640 ft away at 1080 p resolution.
The ROV is attached to a wireless communication buoy to transmit controls precisely and accurately to the drone deep underwater, the company said. The ROV can hover and keep its orientation for up to four hours with four thrusters that allow it to tilt up and down to 45° angles. The drone also includes two 1,000 lumen LED lights for better vision underwater and better colors for videos and images.
"With two years of in-depth research and user feedbacks, Navatics MITO is now ready for mass production as a mature robotics that has been tested by users worldwide in every application field including underwater photography, diving, and cave exploration," said Andreas Widy, CEO of Navatics.