Translator vendor Waverly Labs is introducing an over-the-ear interpretation device that is compatible with 20 languages and 42 dialects to provide translations via auto, text or live broadcast.
The Ambassador raised more than $550,000 in an IndieGoGo campaign last year backed by more than 4,000 supporters.
Waverly Labs CEO and co-founder Andrew Ochoa told Electronics360 that the Ambassador, which will be demonstrated at this week's CES 2020, is geared toward professionals or teams that support multiple people speaking at the same time. The device operates in many different conversation types including one-on-one talks, multi-person meetings or larger conference settings. Although it could also be used for leisure travel or personal reasons, the Ambassador is mostly geared toward business professionals.
The device was made to make conversations as fluid as possible, Ochoa said, taking just one to two seconds to translate in most cases.
"Ambassador Interpreter uses a combination of an advanced far-field microphone array to capture speech with high clarity, along with our neural network speech translation engine which can decipher between different dialects and accents," Ochoa said. "This improves the accuracy when speaking with people, but by enabling machine learning, the more people use it the better it gets."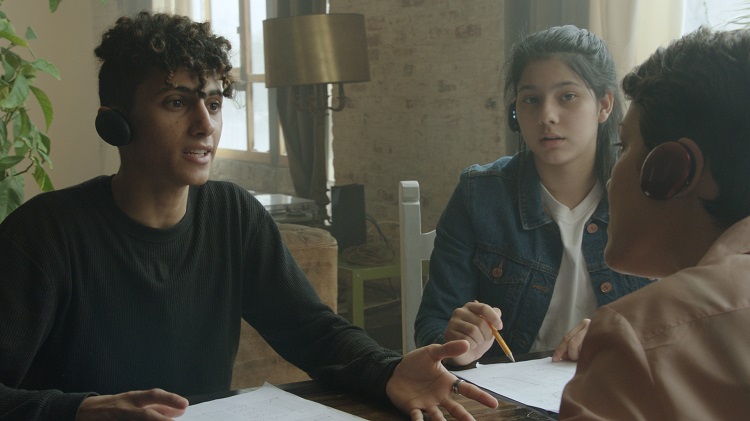 The translator has three modes including one that allows for two-way communication between up to four people. Source: Waverly Labs
Because the over-the-ear gadget is cloud-based, it allows for quick translations. As the device does the speech and the translations in the ear, an app that is included with the device also displays the transcript in case something was missed, Ochoa said.
The translator device features three modes: listen mode, which listens for someone speaking and then automatically translates to a native language; lecture mode, where the Ambassador broadcasts the words of the speaker to multiple people in a lecture; and converse mode, which allows users to engage in two-way communication with up to four participants.
The translations offered include: English, French, German, Italian, Portuguese, Spanish, Arabic, Greek, Russian, Hindi, Turkish, Polish, Chinese Mandarin, Japanese, Korean, Cantonese, Hebrew, Thai, Vietnamese and Dutch.
The Ambassador is sold in a two-pack that includes a large over-the-ear shell form-factor with two microphones that work in tandem to capture speech up to 2.5 meters away. Up to four units can be paired with one smartphone. Waverly Labs said it expects to begin shipping the Ambassador in April.