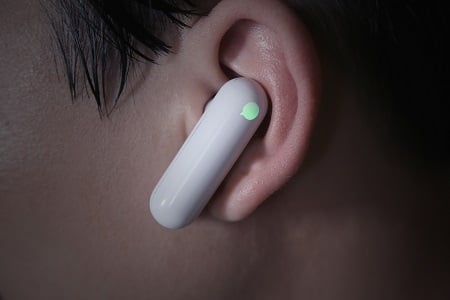 WT2 translator earphones fit in a user's ear, looking no odder than a Bluetooth hands-free device. Source: Timekettle
I don't know if the creators of the WT2 Real-time Earphone Translator, a featured project on Kickstarter, ever read "The Hitchhiker's Guide to the Galaxy," but this little device sure sounds an awful lot like the Babel fish.
For the uninitiated, the Babel fish is described in Douglas Adams' novels as "mind-bogglingly useful." Biologically explained in hilarious, barely-comprehensible detail, the practical upshot of the fish is this: If you stick one in your ear, you can instantly understand anything said to you in any form of language.
Of course, that's science-fiction. But the WT2, from Chinese tech startup Timekettle, seems like it might just be the next best thing: a real-time translating earphone for hands-free communication. Two people can carry on a conversation, with something no odder than what looks like a Bluetooth hands-free device sticking out of each of their ears—and when one of them speaks in his or her own language, the other will hear it in theirs.
The two earphones are packaged in a neat, snap-together case that also charges them—providing up to five or six hours of talk time for long conversations. Six languages are currently supported, and the Kickstarter page says that more will be available.
Best part: With 23 days left to go in the Kickstarter campaign, the project has already been funded more than twice over. But you can still get behind it and reserve your own, with an estimated delivery target of January 2018, at a discount price (planned retail price is $99 and up).
Tres cool!