New Yorker Electronics has announced the release of the new Excel Cell Electronic (ECE) ETB1A-THR series Eurostyle PCB wire protector type terminal block. This new Pitch 5.0 mm terminal block device brings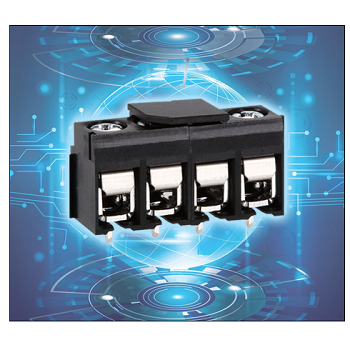 Source: New Yorker Electronicscapabilities not previously available in terminal block mounting.
Previously, through-hole components could not pass through a reflow soldering process because the reflow soldering process uses high temperatures to melt solder paste in several minutes. This meant that the plastic material of the through-hole portion could melt and cause an electrical malfunction. Now, with the new ECE ETB1A-THR series process, terminal blocks can pass through the reflow soldering process and the plastic material will not melt. Using UL 94V-0 grade fire retardant engineering plastic and a special stainless steel wire protector design to ensure reliable wire clamping, the THR components are designed for fully automated assembly.
In addition, they are end stackable, yielding no loss of PCB space and they are easy to assemble for any number of positions. The ETB1A-THR series is designed with either two, three or four poles per block and is available with two to 18 total pins.
The series is capable of clamping a wide range of wire diameters (22 to 14 AWG). They operate at temperatures between -30° C and 125° C.
Applications:
• HVAC
• Security
• Medical
New Yorker Electronics is a franchise distributor of ECE and carries its full line of dip and micro switches, connectors, terminal blocks, relays, chip inductors, chip beads and resettable fuses.