New Yorker Electronics is now distributing the DECA SwitchLab MA series of modular PCB type terminal blocks. These Euro type terminal blocks have between two and 24 positions with a 3.50 mm, 5.00 mm, 7.50 mm or 10.0 mm pitch. MA series wire-protection clamps provide a highly precise dimension, cost-effective, fit-for-purpose and compact wiring solution. The simple clamping mechanism itself reduces the product cost.
The two- and three-pole modular designed terminal blocks can be quickly and easily connected to produce higher pole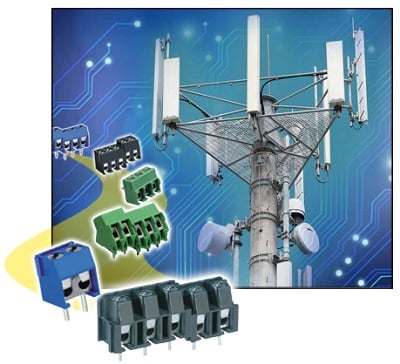 Source: New Yorker Electronics number assemblies. Depending on the actual situation, New Yorker Electronics can supply a one-piece housing product from DECA SwitchLab for mass quantity. All DECA Euro type terminal blocks use high oxidation-resistant and high-temperature insulating material.
The MA series allows screw connections for conductors up to 1.5 mm2 without soldering. The device uses brass or copper alloy as the fixture for wire connection, which helps make the anti-vibration product maintenance free. This prevents screw loosening, increases corrosion resistance and ensures high reliability.
Applications include industrial controls, HVAC equipment and controls, communications equipment, test and measurement, and fire and security.