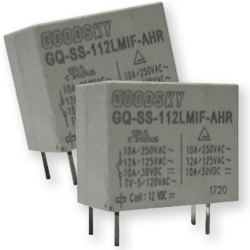 Source: New Yorker Electronics
New Yorker Electronics has released the Excel Cell Electronic GQ Series of 1-Pole Reflow Solderable Relays, now available with THR (Through-hole Reflow) Technology. The new THR Series Through-hole Type Electromechanical Relays from Excel Cell Electronic (Goodsky/ECE) now allow the GQ Series to withstand the harsh melting temperatures of the reflow soldering process.
In the past, the primary issue preventing through-hole components from passing through the reflow soldering process has been the reliance on high temperatures. This melts the solder paste in a matter of minutes; plastic material in the through-hole relay could also melt and cause an electrical malfunction.
Goodsky/ECE discovered several supreme standard plastic materials that can withstand the high, punishing temperatures of the reflow soldering process. From this, ECE developed the THR Series of Relay, which can withstand IEC 60068-2-58 reflow soldering.
Other major relay series such as RWH, JE, GCJ, GU, EMI-2P, SF and others can be customized to THR versions. Moreover, additional values and features can be added such as UL Class F, IEC 60335-1 glow wire and halogen free.
Features and Benefits:
Miniature size 0.2W low power consumption
Operating temperature to 105 degrees C
RoHS and REACH compliant
UL Class F (155 degrees C) insulation available
8 mm coil to contact creepage surge strength 10KV
Applications:
Domestic appliances
Office machines
Audio equipment