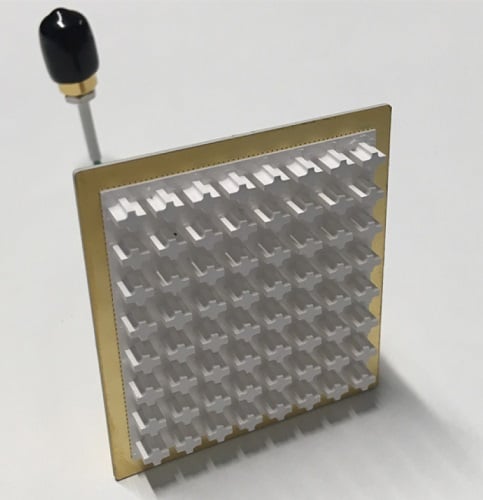 Antenna Company's 5G dielectric resonator phased antenna. Source: Antenna CompanyMobile World Congress (MWC) 2019 is taking place this week in Los Angeles. With the hype surrounding 5G and consumer interest in the technology, it is no surprise that the show will feature many new innovations for the emerging technology.
Launched this year, 5G has been rolled out to a number of locations around the world. This deployment is expected to accelerate substantially in 2020, when more cities will gain access to 5G networks. Cities with existing 5G connections will likely see the coverage of the network expand to a greater segment of the city. Currently, coverage in most cities is regulated to just a handful of highly populated areas.
Operators and 5G equipment manufacturers are also expected to not just expand the number of base stations for 5G, but to also roll out small cells either to LED street lights or other towers to expand network coverage across cities. This will especially help with millimeter wave (mmWave) technology, which is the high bandwidth spectrum that will allow 5G to provide 10 times greater speeds and super low latency compared to current 4G LTE technology. Speed boosters will also be deployed in the future to expand mmWave technology.
As a result of so many simultaneous technology introductions, numerous companies are introducing products and solutions to fit the demands of smartphone makers, equipment suppliers and telecom vendors.
Some of the 5G products being introduced at MWC 2019:
Ericsson will showcase 18 live demonstrations involving 5G such as a haptic feedback glove for paramedics to detect injuries in real-time; collect water quality data to find pollutants in the water; and measure how fast gamers can play advanced games with 5G's low latency. The company will also discuss how they are working to deliver 5G indoors and outdoors.
Zyxel Communications will demonstrate its fixed wireless broadband, whole-home managed Wi-Fi and in-building 5G offerings.
NXP is teaming with Sivers IMA to develop a new solution for 5G new radio (NR) for applications such as 5G fixed wireless access — which would compete with cable and DSL for in-home connectivity.
AlefEdge will lead a discussion on how operators and the ecosystem can benefit from combining edge internet technology and how 5G connectivity can generate a $4.1 trillion economy by 2030.
Inseego will demonstrate its commercially available 5G NR products with customer use cases.
Antenna Company will showcase its 5G dielectric resonator phased antenna (DRA) array designed for 5G mmWave applications. The 64-antenna DRA can achieve wide-band operation over the 24 to 30 GHz frequency bands.
This is just the beginning of the announcements that will take place at MWC. Electronics360 will be covering the show as news happens.