One of the main drivers for the surge in 5G popularity, even in its infancy, is the promise of faster speeds — somewhere in the range of 10 times the data download rate of 4G LTE technology.
To get there, the technology needs to evolve to a point where the right spectrum allows for this type of speed to happen for both fixed wireless broadband and mobile devices. Experts suggest that millimeter wave (mmWave) spectrum is how 5G will get to this speed level. And while some companies such as Verizon and AT&T are rolling out mmWave base stations to cities, coverage remains extremely limited due to the nature of the technology.
Comprised of a set of high spectrum bands above 24 Ghz, mmWave is capable of extreme data speeds and capacity. But these transmissions suffer from significantly higher path loss and susceptibility to blockage even to the point where coverage is limited to hundreds of feet. Obstacles such as walls, trees, the roof of a car, buildings and more cause the technology to be obstructed.
Micro 5G base stations on street lamps
Unlocking the potential of mmWave technology means that small 5G cells need to be placed all around in order to expand coverage and hopefully prevent blockage as much as possible. Installing small cell base stations onto street lamps is one potential step that is being explored to expand the range of mmWave technology.
"The nature of mmWave is the reason why we need to build so many base stations to ensure the effective coverage, and only by this short wave tech can we achieve high transmission rate," said Wang Shen, senior analyst for LEDs and lighting at IHS Markit. "Street lamp poles happen to be a good carrier and the same can be said for security camera poles."
Street lamps offer elevation and most are already in place, making them a suitable solution for installing micro 5G small cells, according to Bill McShane, director of Americas at Signify, a maker of LEDs and LED street lamps.
"This is a global phenomenon and street lighting is moving away from a mundane accessory that was once considered a liability to a vital asset in a community," McShane said.
IHS forecasts that connected smart street luminaires will rise to 12 million units in 2022, maintaining a compound annual growth rate (CAGR) of 40%, up from 4 million units in 2019.
While 5G micro base stations will most likely be installed on internet of things (IoT)-enabled street lights, it is not fully necessary. As long as a base station has sufficient power supply, cable connection and good installation location, the street lamp doesn't have to be intelligent, McShane said. However, having both connected internet capabilities combined with 5G would bring added value to smart street lights, meaning it is likely they will come together as a package.
Prototypes already being tested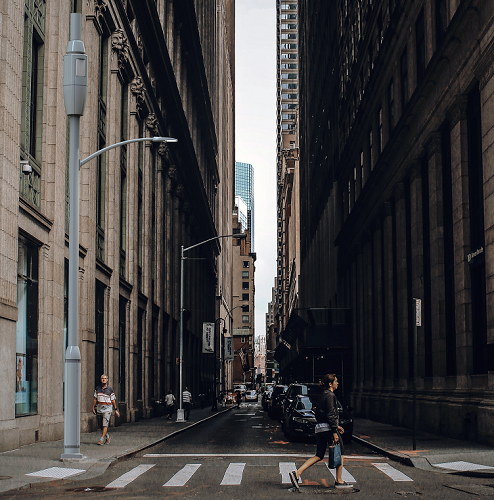 Prototypes are already in place in China and the U.S. is following suit later this year or in 2020. Source: SignifyStreet lamp poles with 5G micro base stations have been commercialized and are already shipping to markets in China. The municipality of Beijing is one of the biggest promoters of the technology with plans to implement 5G street lamps this year and during the 2022 Winter Olympics taking place in the city.
Pilot projects are also taking place in other Chinese provinces such as Jiangsu and Guangdong.
"Telecom infrastructure builders are now seriously listing millions of existing street lamp poles as future potential 5G micro base station carriers," Shen said.
Mass scale implementation is reportedly coming in the next several years as well. According to China Tower, a telecom infrastructure provider, 80% of the outdoor 5G small cells will be carried by road lamp poles or security camera poles. This scaling may happen sooner than most expect as 2019 and 2020 are being seen as the golden period of 5G infrastructure building, Shen added.
Signify is working with Ericsson, Nokia and others to power street poles with 5G small cells. The first deployment of 5G will be used for mmWave transmitting content from a pole and into a building, McShane said.
"As 5G technology matures, the density is going to explode exponentially and these small cells will have to be placed about 100 to 300 feet away, which is about the spacing of street lights," McShane said. "So this becomes a natural place to put 5G technology. It is a perfect storm of 5G technology that will help bring smart cities a reality."
Signify is seeing deployments of 5G-enabled streets lights across the U.S. and in the next year or two this will only increase as 5G gets rolled out to more cities and coverage grows.
More than just coverage
While expanding mmWave coverage will be the main purpose for 5G-enabled street lights, adding this capability will provide benefits to smart cities and eventually autonomous vehicles.
5G street lights could allow for municipalities to collect real-time data, process on the cloud and pass the command to each vehicle so that each self-driving car would understand the road conditions, traffic and upcoming incidents that are happening in real-time. Each street lamp would be a conduit for the cars moving along the road, keeping them connected to the mmWave 5G network.
Additionally, since street lights are common elements in cities, it opens up the possibility of 5G Wi-Fi in locations all over cities where no connection currently exists. 5G-enabled street lights could be used to monitor air quality in different parts of a city, dim lights near homes at night or provide responsive environments for emergencies, all connected to a super-fast network enveloped in a smart city due to numerous small cells being placed on these lamps.