Copper Mountain Technologies SC series compact vector network analyzers (VNAs) for two-port, two-path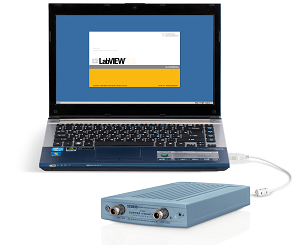 Source: Copper Mountain Technologiesmeasurements feature a 140 dB dynamic range, 15 dBm output power and a typical measurement speed of 16 µs per point.
The series includes the SC5065 and SC5090, both with a starting frequency of 300 kHz. The SC5065 goes up to 6.5 GHz and the SC5090 goes to 9 GHz. The VNAs include a radio frequency measurement module and S2VNA software application that runs on Windows or Linux operating systems on a PC, laptop, tablet or x86 board computer connecting to the measurement hardware via USB interface. The S2VNA software can be installed on multiple computers that share the use of the analyzer measurement module.
The SC series network analyzers are used in the field, in the laboratory and in production testing for many applications. The VNA can integrate into production test systems via manufacturing test plug-in.