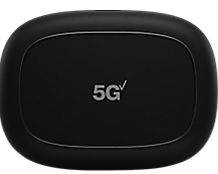 The Inseego 5G MiFi M1000 hot spot. Source: VerizonVerizon has launched a new hot spot for customers to provide high bandwidth and fast download speeds for the home, video streaming, virtual reality and augmented reality, mobile workforce, industrial internet of things (IIoT) and more.
Additionally, Verizon has launched 5G mobility service in St. Paul, Minnesota, joining Denver, Chicago, Minneapolis and Providence, Rhode Island, as cities where the company has turned on 5G service. Verizon plans to launch to more than 30 cities by the end of 2019.
Verizon calls the Inseego MiFi M1000 the first business-ready 5G device that can allow first responders to set up mobile command centers with fast data speeds for new public safety applications such as object detection, geospatial visualization and more, Verizon said.
The Inseego MiFi can also be used for telemedicine by enabling real-time interaction between healthcare providers and patients for remote consultations or physical therapy sessions using VR headsets and gloves. When tethered to a 5G MiFi M1000, a robot can interact with humans with near real-time speed, the company said.
The hot spot is available now for $27.08 a month for 24 months or $499.99 with a two-year contract. Data plans range from 50 GB of 5G data and 15 GB of 5G LTE data for $30 a month for consumers while business customers pay $45 a month for unlimited 5G services or 35 GB of blended 4G/5G service for $15 a month.