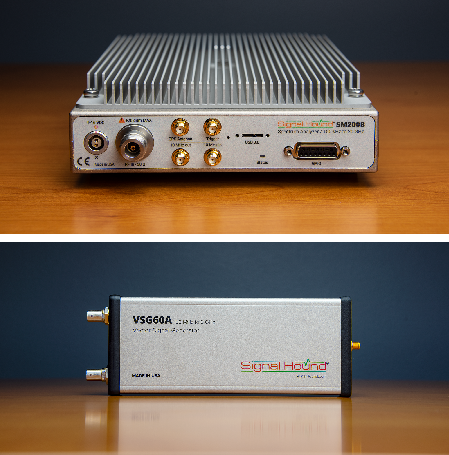 The SM200B (top) offers 160 MHz instantaneous bandwidth I/Q capture; the VSG60A (bottom) is a 6 GHz vector signal generator with 40 MHz streaming modulation bandwidth. Source: Signal Hound
Signal Hound, a developer of optimized solutions for RF signal test and measurement, is highlighting two new devices at this year's edition of the International Microwave Symposium (IMS 2019): the SM200B 20 GHz spectrum analyzer and the VSG60A 6 GHz signal generator. According to a press release, both products are scheduled for general availability in the fourth quarter of 2019.
Signal Hound's new SM200B offers 160 MHz instantaneous bandwidth (IBW) calibrated in-phase quadrature (I/Q) capture, available through block transfer of a two-second I/Q buffer over USB 3.0 to the PC. This added two seconds of segmented I/Q capture memory, with advanced triggering options such as frequency mask triggering (FMT) plus user-specified pre- and post-trigger, addresses the increasing analysis bandwidth demands of the wireless industry. The SM200B maintains the same dynamic range, phase noise, 1 THz/s sweep speed and 100 kHz-to-20 GHz tuning range that has been a successful strategy for Signal Hound's SM200A. Applications include spectrum monitoring, 5G and radar.
[Learn more about spectrum analyzers.]
The new VSG60A is designed as a cost-effective solution for high-performance vector signal generation, and is fully calibrated for 40 MHz bandwidth streaming. Signal Hound describes it as a low phase noise, agile local oscillator with a 200 μs switch time that enables frequency hopping spread spectrum testing. Its dual 14-bit DAC runs at two or three times the I/Q symbol rate using digital oversampling to provide a flat, clean baseband. Waveform generation software is included, and a trigger output is also available to synchronize the VSG60A with other test equipment. Pre-programmed modulation types include Wi-Fi, QAM, PSK, CW, pulse, multi-tone and more.
[Learn more about signal generators.]
Both new devices will be available through global distributors, and the Signal Hound website. IMS 2019 runs June 2-7 in Boston.