Ford is taking a different approach to the trend of developing delivery robots for last-mile services with a two-legged delivery robot called Digit that can carry up to 40 lbs of packages.
Not only does the robot look more human than its counterparts, but Digit is capable of walking up and down stairs, over uneven terrain, avoiding obstacles and taking bumps without losing its balance or falling over.
Ford is teaming with Agility Robotics to develop the robot, which can fold itself up for storage in the back of a truck or other vehicle and then be deployed to grab a package when it gets to a destination. Ford envisions using Digit with self-driving vehicles that could double as a ride-hailing service where the car delivers packages between picking up and dropping off customers.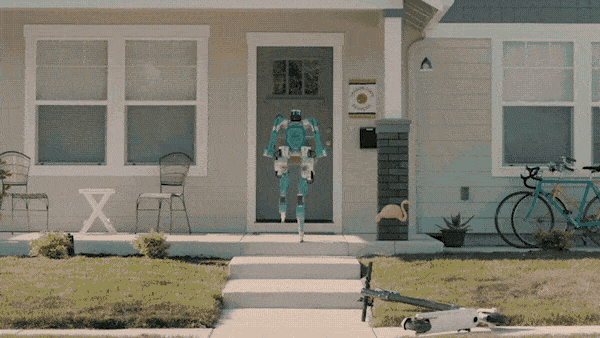 Ford said that the goal is not only to make the last-mile logistics process more efficient, but to free consumers and delivery services from the burden of having to focus on the logistics of making deliveries or retrieving deliveries at home.
While deployment from a truck or a self-driving vehicle is possible, Digit can also tap into the resources of another robot — such as one that has advanced sensors or heavy computing hardware — for additional support or analytical skills.
An example of this would be using a self-driving vehicle's ability to create a detailed map of its environment and sending it to Digit. The vehicle would wirelessly send the information to Digit to find the best route to a front door. Using lidar and stereo cameras, Digit would navigate to the door. If an unexpected obstacle came into view, it could send an image back to the vehicle to find a solution. The car or other robot could send information to the cloud and request help from other systems to allow Digit to navigate to a destination or find an alternate route to a location.
The parcel delivery robot market is heating up with numerous companies engaged in testing wheel-based robots for last-mile delivery. Originally, numerous startups began pilot projects testing the ability of these robots to deliver goods and packages, including Starship Technologies, Postmates, Kiwi and Robby Technologies. However, larger companies are now getting in on the act with Amazon unveiling its Amazon Scout, FedEx launching its SameDay Bot and PepsiCo introducing its Snackbot.
Ford's idea for a delivery robot would be a different take on the home delivery market, but it wouldn't be the first. At this year's CES tradeshow, Continental introduced a prototype for a pack of delivery robot dogs that would be deployed in a neighborhood or in a downtown area.
This doesn't even touch upon the vast amount of startups and major companies that are developing drone delivery as another option for last-mile deliveries.