Ford Motors has started a new pilot project for an on-demand delivery platform using self-driving vehicles as the first and last mile system.
Working with Postmates, the pilot project is underway in Miami and Miami Beach with more than 70 businesses participating. Customers order through Postmates with the option to have the items delivered by a self-driving research vehicle or through a manually driven vehicle.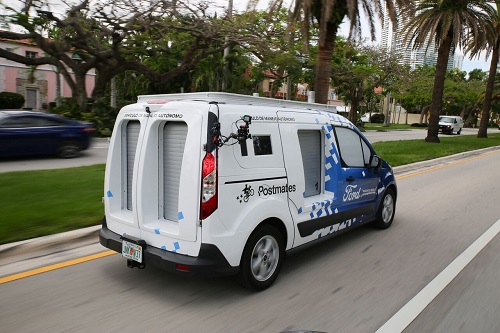 Ford's Transit Connect vehicles have been modified for delivery of goods and food. Source: Ford Ford is using its Transit Connect self-driving research vehicle that contains a locker system to secure the food for multiple customers to be served in one delivery route. Ford said it isn't just food that can be delivered but also goods for other stores such as hardware or other businesses to test how consumers and businesses interact.
The lockers open up so employees can place food inside and when the vehicle arrives at its destination, the customers receive a text notification that the delivery is ready for pickup. When consumers meet the vehicle at the curb, they use an access code on a touch screen to open the right locker. Audio prompts direct the interaction and lights will illuminate the designated locker.
Ford said the pilot project is the first self-driving vehicle that has been modified to test a variety of interfaces — the touch screen, the locker system and the external audio system — and will be offering the vehicles for sale beginning in 2021.
The goal is to test various methods for efficient deliveries to help local businesses expand the reach of their products while at the same time giving customers an easier experience for buying food and goods, Ford said.