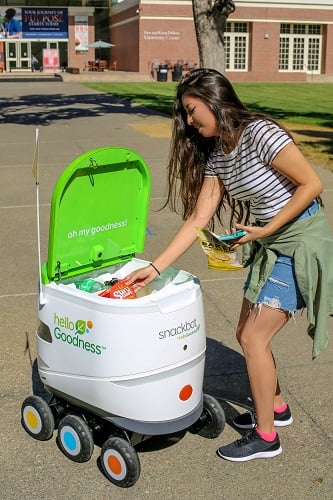 The autonomous bots can delivery food and drinks to 50 spots on the college campus. Source: PepsiCoDespite having a delivery robot burst into flames last month on a different California university, food and beverage manufacturer PepsiCo is experimenting with a new self-driving delivery robot on a college campus in California. Snackbot is an outdoor, autonomous delivery robot that brings food products from Hello Goodness to college students on the campus of University of the Pacific in Stockton, California. The robot is based on a partnership with Robby Technologies, which at CES 2018 introduced the Robby 2 delivery robot, which delivers both parcels and food items.
PepsiCo plans to expand the Hello Goodness brand into new formats, locations and experiences to increases sales. Some of the products in the Snackbot including Smartfood Delight, Baked Lay's, SunChips, Pure Leaf Tea, Bubly, Lifewtr and Starbucks Cold Brew.
Students order food and drinks from 9 a.m. to 5 p.m. via the Snackbot app and it is then delivered to 50 designated areas across the 175-acre campus.
The autonomous bots can travel more than 20 miles on a single charge and navigates curbs, steep hills, darkness and rain with a camera and headlights.