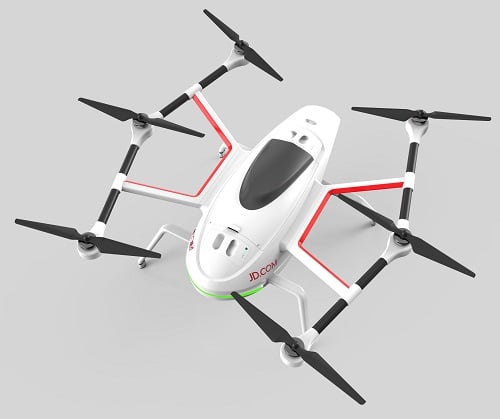 The JDrone powered by Nvidia's Jetson processor. Source: JD XNvidia has announced a new collaboration with drone maker JD X to bring artificial intelligence (AI) to logistics and delivery using autonomous machines powered by the chipmaker's Jetson computer module.
Jetson will be used as the backbone for JDrone and JDrover, two of the latest delivery vehicles from JD X. The company has begun pilot initiatives in China to use drones for delivery, agriculture and search and rescue efforts. JD X says it will release more than one million drones over the next five years.
Using Jetson, JDrone is capable of flying up to 100 kph and deliver packages weighing up to 30 kilograms. JD X is also testing drones that are capable of carrying packages up to 200 kg.
The goal is to bring autonomous delivery options to rural areas because of poor transportation infrastructure. Using drones and other vehicle methods, JD X has been able to reduce its logistics fees by 70 percent while at the same time delivering food and medicine to remote locations.
Recently, JD X used the drone to help minimize the impact of a plague of insects striking Xingcheng City in the Liaoning province. 20 drones were used to spray pesticides with 500 hectares being treated in five days. It would have taken 50 people using traditional methods 200 days to complete the same process.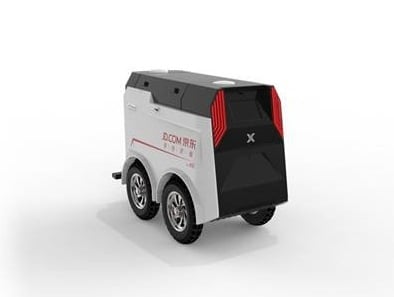 The JDrover autonomous robot. Source: JD XMeanwhile, the autonomous delivery robot, JDrover, is being used by JD X for last-mile deliveries on numerous Chinese campuses. Using the Jetson processor, the robot can navigate through crowded streets identifying faces, pedestrians, traffic lights, signs and more. As JD X learns more about how the robot acts, the company will deploy the rover in more complicated scenarios around China.
"Complex outdoor situational awareness requires a platform that delivers unprecedented capabilities for deep learning and visual processing in a small form factor," said Yuqian Li, head of the JDrover team at JD X. "The high performance of Jetson combined with its low power consumption and cost was the reason why we selected it for all of our logistics and delivery initiatives."