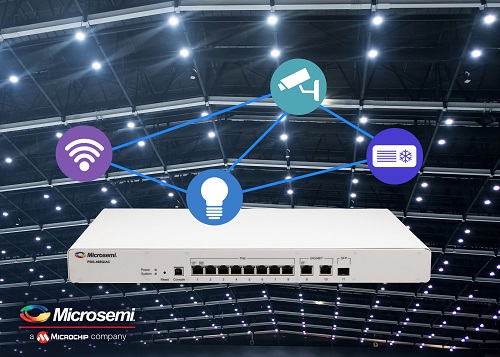 The PDS-408G eight-port switch. Source: Microchip
Microchip Technology Inc., through its Microsemi subsidiary, has introduced an eight-port Power over Ethernet (PoE) switch that can be used to improve energy efficiency and operating costs of smart lighting systems.
The PDS-408G switch guarantees power of 60 W per port for all eight ports simultaneously, making it suitable for digital ceiling installations that allow for PoE switches to run noise-free with a fanless design.
The switches are designed for enterprise connected lighting applications such as those in office buildings for lighting, sensors, HVAC and Wi-Fi access points over a single switch. The PDS-408G provides a total of 480 W including up to 90 W for any individual port or 60 W for eight ports simultaneously.
The switch can be installed in any air handling space and the fanless design provides the features needed for buildings that require noise-free operation such as offices, hospitals and hotels. PoE used in these buildings offers safe power, simple installation, flexible deployment and remote power management, Microchip said.