NETGEAR®, Inc.
has introduced a family of 
NETGEAR LTE Modems
(LB111X) that offer instant 4G LTE connectivity in its simplest form to any Ethernet-enabled device. These mobile broadband modems offer an easy way to provide primary or fail-over Internet connectivity to keep business-critical equipment and services running 24/7.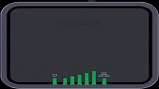 NETGEAR (LB111x) LTE modems. Source: Netgear?
The initial launch includes two NETGEAR LTE modems-- the basic LB1110 for homes and small businesses, and the LB1111 with Power over Ethernet (PoE) for reliable network connectivity and power through a single Ethernet cable, for remote or larger office premises equipped with PoE infrastructure. The LTE Modems each have a simple Gigabit Ethernet port that enables them to act as a networking bridge to provide a 4G LTE connection to the Internet for a wireless router, gateway, switch, computer, security camera or other Ethernet-enabled device. Moreover, once a router, gateway or switch is plugged into the LTE Modem's Gigabit Ethernet port, it will be able to share the 4G mobile broadband connection and speeds with other WiFi or wired devices on the network.
Offering easy setup within minutes, a NETGEAR LTE Modem is a practical, instant Internet-without-wires solution for numerous temporary and portable sites. It also provides a temporary "LTE in, Ethernet out" solution in areas where a permanent wired Internet solution is unnecessary or impractical.
Larger offices or remote office locations equipped with PoE infrastructure (such as NETGEAR ProSAFE® PoE/PoE+ switches) can use the PoE-enabled LB1111 LTE Modem to extend LTE access around the business premise. This PoE capability eliminates the requirement for a power outlet within reach, or the need to contract an electrician to run dedicated wiring for power-- making it easy for installers who are deploying video surveillance, wireless access points, and VoIP for their clients.
For businesses at risk from dropped connectivity through primary DSL or cable internet providers, the LTE Modems can serve as a fail-over solution, ensuring that an Internet connection will be accessible 24/7 for business-critical equipment including security cameras, POS systems and other wireless devices that need to stay online.