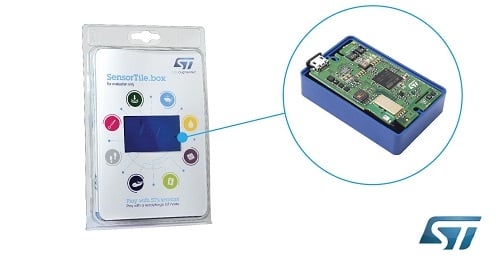 The SensorTile.box IoT module. Source: Hackster.io
ST Microelectronics is expanding its user base for its internet of things (IoT) sensor devices by launching a new platform to help designers, tinkerers, makers and entrepreneurs quickly understand how to collect and send information to the cloud.
The SensorTile.box will be part of a new demonstration platform for Azure IoT Central that is designed to easily connect smart devices to the cloud for data capture and analysis. The module connects with Bluetooth Low Energy (BLE) to a smartphone, allowing users to watch the sensors function as a pedometer, asset tracker or environmental monitor.
The module is delivered ready to use with a 500 mAh lithium battery and 8 GB microSD card with a number of microelectromechanical systems (MEMS) managed by a low-power STM32L4R9 microcontroller. The MEMS in the module include a high accuracy temperature sensor, low-power six-axis inertial measurement unit (IMU) with machine learning core (MLC), two three-axis accelerometers, a magnetometer, pressure sensor and altimeter, analog microphone, and humidity sensor.
Makers and beginners can also use the module for vibration monitoring, data recording, inclinometer and level-sensing, digital compass, and baby-monitoring applications.