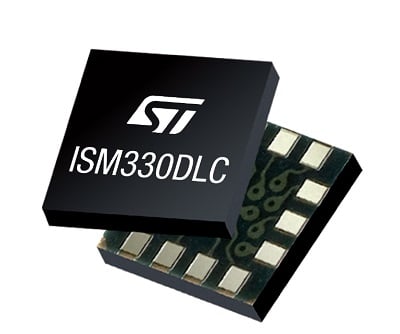 The ISM330DLC MEMS. Source: STMicroelectronicsSTMicroelectronics has extended its family of ultra-low power micro-electro-mechanical systems (MEMS) for industrial applications, combining accuracy and robustness with a 10-year longevity program.
The ISM330DLC contains a three-axis accelerometer and a three-axis gyroscope with full-scale up to 16 g and 2000 dps, respectively. The MEMS features high measurement resolution and smart energy savings for battery-powered industrial devices such as the industrial internet of things (IIoT), robots, drones, platform stabilizers and telematics. The wide accelerometer bandwidth, up to 3 kHz, also allows use in vibration monitoring and compensation systems.
A large integrated FIFO lets a host system retrieve data efficiently. Smart features and interrupts including tilt detection, free-fall, wakeup, 6D/4D orientation, click and double click, allow designers to achieve additional energy savings and a sensor-hub feature allows for collecting data from an additional external sensor.
The MEMS includes built-in dedicated configurable low-latency signal-processing path, low noise and filtering optimized to ensure closed-loop control stability. The signal path can be independently configured to make the gyroscope or accelerometer data available through an auxiliary SPI interface, STMicroelectronics said.
The ISM330DLC is in production now and is priced from $2.90 for 1,000 unit orders.