Stewart Connector, a Bel group company and manufacturer of high-speed connectors used in data communications, announces a product line extension to the SealJack PCB mount series with a right angle USB 2.0 SealJack connector. The SealJack PCB mount series is used in internet of things (IoT) applications where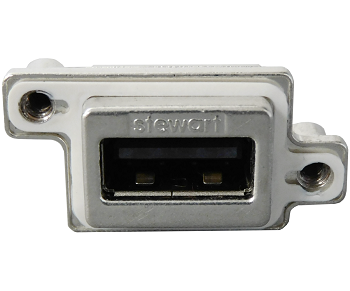 Source: Stewart Connectorreliability and functionality are necessary when Ethernet moves outside typical office applications.
The USB 2.0 right angle SealJack offers a uniquely sealed, light and compact design that can transmit 480 Mbps. This single port right angle connector is rated for IP67 applications and allows for front panel mounting with blind mating screw pockets. Stewart's USB 2.0 SealJack connector also has 30 micro inches (µin) of gold on the contacts and is molded in high-temperature plastic. These sealed connectors excel when electronics need to be protected from environmental conditions beyond what is capable using traditional USB connectivity.
Stewart Connector products are available at Digi-Key, Mouser, Newark and in Europe at Farnell. For more information, contact a Stewart Connector sales representative at belfuse.com or download the SealJack Vertical Series brochure.