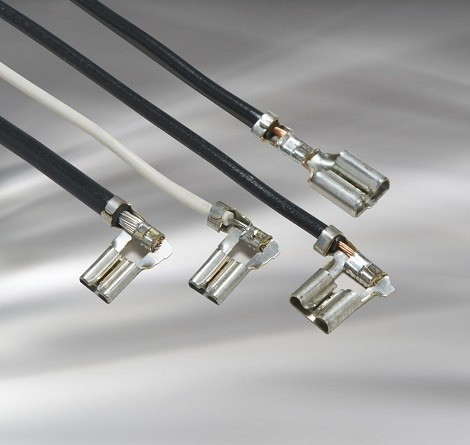 Heilind is now stocking the TE Connectivity standard Faston terminal line. Source: Heilind Electronics
Electronic components distributor Heilind Electronics will be hosting two upcoming tech expos, both of which offer attendees an opportunity to interact with representatives from over 25 electronics components manufacturers.
The Heilind Houston Tech Expo, scheduled for April 4, 2019, will be held at the Redneck Country Club in Houston, Texas; the Heilind Salt Lake City Tech Expo will be held on June 20, 2019, in Salt Lake City, Utah.
The company also recently announced that it will be a stocking distributor for TE Connectivity's new line of standard Faston receptacle terminals. Identifiable by a "dog-bone"-shaped front end, the terminals allow mating tab connections on a rolled edge rather than a sheared edge for reduced insertion force. They also incorporate 2D crimp technology that accommodates different wire sizes through adjustment of the applicator crimp height — potentially allowing replacement of hundreds of other receptacles and, in turn, providing benefits such as reduced design complexity, easier inventory management and reduced production costs.
For details and registration on either Heilind Tech Expo event, click here. For more information on the Faston terminal line, click here.
Heilind Electronics supports a variety of market segments with commercial and military standard (MIL-SPEC) offerings in interconnect, electromechanical and sensor products.