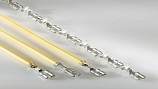 TE Connectivity (TE) offers a
4.8 mm (0.187 in.) series FASTON receptacle terminal that mates with tabs that are either 0.51 mm (0.020 in.) or 0.81 mm (0.032 in.) thick
. By mating with various thickness tabs, this straight quick-connect crimp receptacle simplifies connections in appliances, industrial goods, HVAC systems and more.
Designed to mate with standard 4.8 x 0.81 mm (0.187 x 0.032 in.) or 4.8 x 0.51 mm (0.187 x 0.020 in.) tabs with retention holes, the receptacle, part number 2293255-1, complies with UL 310 and IEC 61210 (VDE 613) standards. The open barrel, F-crimp design is only 15 mm (0.59 in.) long, allowing it to fit where some other straight receptacles will not. It incorporates insulation support and accommodates 0.5 – 1.50 mm2 (20 – 16 AWG) wires with 2.3 – 3.3 mm (0.09 – 0.13 in.) diameter insulation. It is UL recognized, file E66717, and VDE approved, file 40045816.
A related new FASTON receptacle, part number 2293895-1, also accommodates tabs 0.5 mm and 0.8 mm thick. It is available for 1.0 – 2.50 mm2 (17 –14 AWG) wires with 3.0 – 4.3 mm (0.12 – 0.17 in.) diameter insulation.
The receptacles, stamped from 0.32 mm (0.0126 in.) tin-plated brass, are rated 250 VAC. The 2293255-1 terminal is rated up to 12 amps with 1.5 mm2 wire, while the 2293895-1 is rated up to 20 amps with 2.5 mm2 wire.
Supplied end-to-end on reels, the new terminals are designed to be machine applied using TE's 
OCEAN applicators
. The applicators are offered with various options and can be used in several types of presses and leadmakers. Additionally, a TE 
hand tool
 is available for prototyping, harness repair and other low-volume requirements.
The terminals are available with a four week ARO lead time. Price is available upon request.