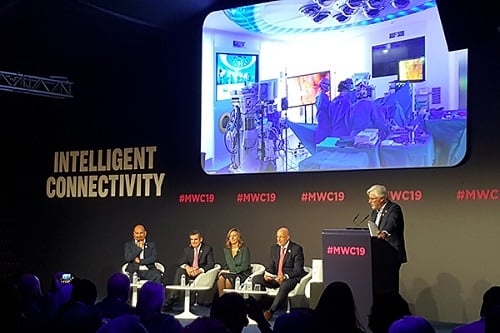 The doctor mentoring the live surgery during MWC. Source: Barcelona Hospital ClinicDuring Mobile World Congress 2019, which took place Feb. 25-28, a team from the Barcelona Hospital Clinic conducted what they claim is the first tele-mentored live surgery using 5G technology.
During the test, a "remote surgeon" guided the surgery via a 5G stream that was broadcast between the medical team located in the Hospital Clinic and another doctor located at the MWC convention venue in Fira Barcelona Gran Via.
The pilot project, developed by AIS Channel, Vodafone and the Barcelona Hospital Clinic, is part of the city of Barcelona's initiative aimed at transforming the city into a hot spot for 5G technology.
Dr. Antonio de Lacy, head of gastrointestinal surgery at the Barcelona Hospital Clinic, guided the surgery performed at the hospital using Vodafone's 5G network. The network records surgeries from all possible angles and streams information outside the operation room in real time.
Barcelona Hospital Clinic said 5G training with surgeons can improve practices by enabling real-time knowledge transferred to surgeons in training. Additionally, surgeons and other hospital teams can monitor procedures remotely, so the latest knowledge and advances in surgery can reach remote operating rooms.
The 5G Connected Surgeon project eliminates the problem of latency by leveraging the benefits of 5G such as ultra HD capabilities, high bandwidth and real-time responsiveness, high definition images and large amounts of information that can be shared. This means an instant connection to specialists from all over the world and allows them to collaborate in real time while performing surgical operations, the Hospital Clinic said.
"This surgical intervention marks a before and after in the world of medicine," said Dr. Josep Maria Campistol, CEO of the Hospital Clinic. "The Hospital Clinic has always opted for technological innovation and it is a pride that our hospital is the first in our country to have 5G technology. We have started with remote surgery and we are convinced that 5G, a faster and safer technology, will help us in the remote control of different situations that will facilitate the day to day of healthcare professionals and patients and will allow us to develop new projects that will be of great interest to society."