Researchers from Texas A&M University have found that delivering small buzzes of electrical currents to the fingertips can allow surgeons to accurately understand the location of robotic fingertips during remote, robotic-assisted surgery. This allows surgeons to control robotic fingertips precisely enough to land gently on delicate surfaces and effectively reduce inadvertent injuries during robot-assisted surgery. Telerobotic surgical systems act as physical extensions of a surgeon's hands during remote surgery.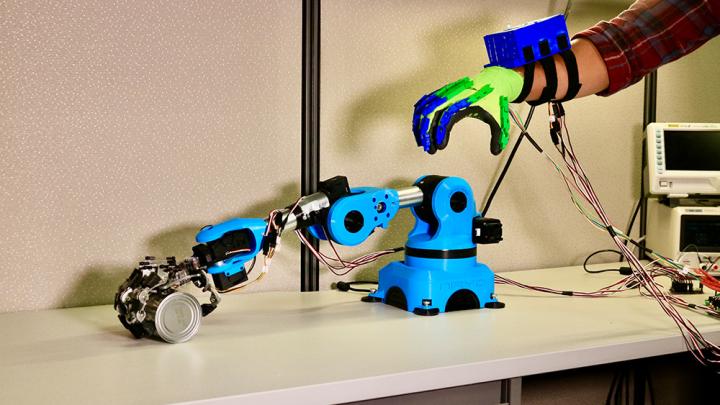 Stimulation electrodes on glove deliver distance information so that user can touch a test object with just the right amount of force. Source: Texas A&M University College of Engineering
In the past, it has been difficult to achieve precise control of robotic fingers that allow them to be soft enough to land on biological tissue without harm. The new method gives surgeons an intuitive sense of where the robotic fingers are and use this feedback to touch fragile structures, like the brain.
Robotic fingers controlled by a surgeon enables remote surgical procedures, expanding the number of patients that a surgeon can treat. The small finger size of a robot means that smaller incisions are possible during surgery.
To direct surgery robots, surgeons currently rely on live streaming visuals from cameras on the robot arms. Surgeons watch monitors to match their finger movements and robot finger movements. But visual information is not enough to guide fine finger movements, which are critical when operating on delicate parts of the body.
The new method can deliver distance information independent from the visual feedback of the traditional method. The new method passes frequencies of electrical currents into a surgeon's fingertips through gloves fitted with simulation probes. Users can be trained to associate the electrical frequency with how far the robotic fingers are from a target. The current frequencies indicate a closing distance and can be tailored to the user's sensitivity.
To test the gloves, the team compared results from a group of participants who used the gloves with the robotic arm camera and a group who used only the robotic arm camera to perform a test surgery. The results showed that the group who used the gloves performed better than the visual-only group. This group was more aware of the proximity of a surface and had a lower force of contact. The proximity information delivered through electric pulses and visual information was three times more effective than visual information alone.
The new approach has the potential to increase maneuverability during surgery and minimize the risk of unintended tissue damage. The system added little to the existing mental load of surgeons.
A paper on the new method was published in Scientific Reports.