It's a technology that offers increased surgical precision and repeatability, targeted drug delivery, faster diagnostics and even hospital housekeeping tasks. The field of robotics is continually expanding to cover a variety of roles in the medical environment.
SURGICAL ASSISTS
The first documented use of a robot-assisted surgical procedure occurred in 1985 when the Unimation PUMA 560 robotic surgical arm was used in a delicate neurosurgical biopsy.
Probably the most widely known medical robot is the da Vinci® Surgical System made by Intuitive Surgical. The teleoperated robot-assisted surgical system has been used successfully on millions of patients since it was cleared by the U.S. Food and Drug Administration (FDA) in 2000. Indications for use include minimally invasive cardiac, urological and gynecologic procedures.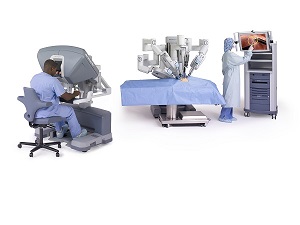 The da Vinci System translates the surgeon's hand movements into smaller, more precise movements of tiny instruments inside the patient's body. (©[2017] Intuitive Surgical, Inc.)
Corrective surgery for retinal vein occlusion requires the eye surgeon to insert an ultrathin needle into the vein and inject medicine to dissolve the blood clot. No surgeon can manually inject a drug into the 0.1 mm wide retina vein while holding the needle perfectly still for 10 minutes. This is where robotic precision is welcome. Researchers have developed and demonstrated a robotic system that enables needle insertion into the veins in a precise, stable way.
[See Retinal Vein Surgery by Robot]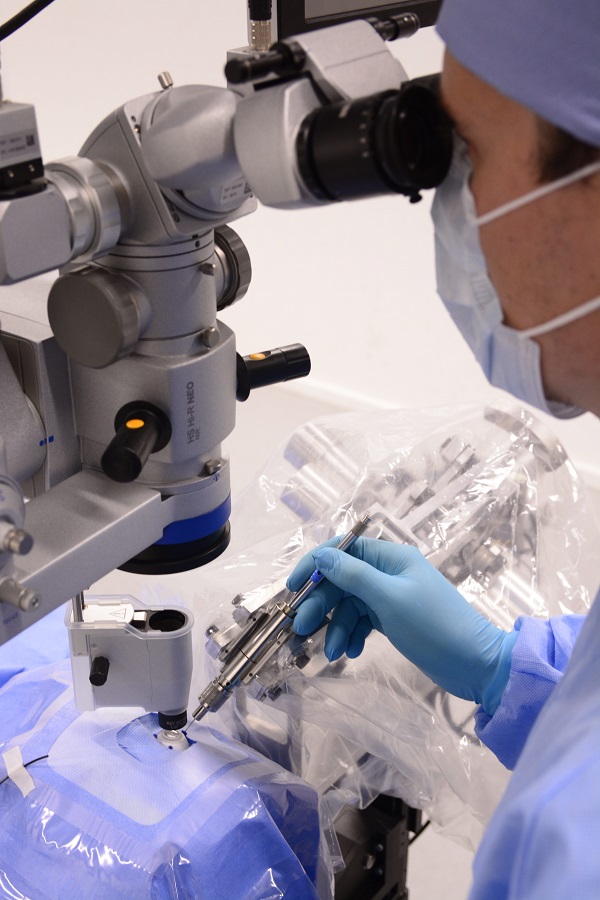 Robotic device enables precise needle insertion into retinal veins. (© KU Leuven)
Drill robot, drill: Another advance in medical automation is a robotic drill that increases the safety and accuracy of cochlear implantation. Used in conjunction with surgical planning software, the device affords access to the cochlea through a minimally-invasive keyhole tunnel of approximately 2.5 mm diameter from behind the ear. Even without direct manipulation by the surgeon, this robot reduces the potential for facial nerve damage and improves patient outcomes.
[See: Cochlear Implants by Surgical Robot]
Sew what? A Kuka robot arm with seven degrees of freedom and equipped with near-infrared and light field vision has successfully performed soft tissue surgeries and sutured intestines—albeit in pigs.
DIAGNOSTICS AND DRUG DELIVERY
Flashback to Fantastic Voyage: Micro-bots that deliver drugs or perform small surgical interventions may soon be swimming through your bloodstream. The magnetic force of MRI scanners is being harnessed to steer swarms of these microsurgeons, each in the 0.5-2 mm size range, through blood vessels.
[See: Steering Swarms of Medical Micro-bots]
From iRobot, makers of the floor-cleaning Roomba, comes the RP-VITATM, the first FDA-cleared telemedicine robot that combines state-of-the-art telecommunications and AutoDrive technology. The robot is designed for use before, during, and after surgery and for cardiovascular, neurological, prenatal, psychological, critical care and examination uses. The system supports real-time audio and video communication between patients and hospital attendants and a remote physician.
GERMICIDAL ROBOTS AND BEYOND
Germ-zapping robots are roaming hospital corridors in efforts to reduce the incidence of hospital-acquired infections. The cleaning routines of these ambulatory automatons include delivery of high-intensity UV light and pulsed xenon UV light to disinfect surfaces.
[See: Robots to Disinfect Hospital Rooms]
A Xenex germ-zapping robot pulses germicidial UV light. (Source: Xenex)
Medical robots can also offer rehabilitation assistance—think exoskeletons and other wearable devices. The future of military medicine may also be shaped by robots that rescue the wounded from battlefields or perform emergency medical interventions.
The medical robotics and computer-assisted market, evaluated at $8.9 billion in 2015, is estimated to reach $20.5 billion by 2022. While some contend that the high cost associated with surgical and rehabilitation robots may hinder diffusion of this technology, it is likely that continuing advances in AI, the increasing need for automation in the healthcare sector, and growing demand for minimally invasive or non-invasive surgeries will drive the market.