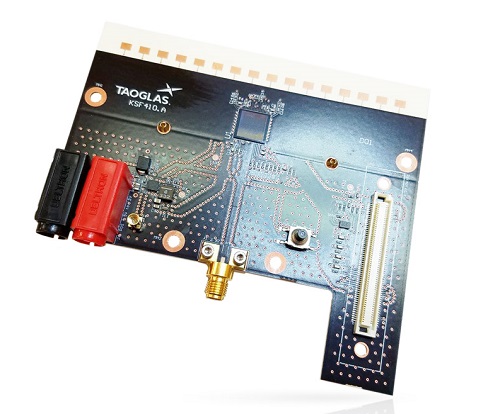 The 5G New Radio KSF.410. Source: TaoglasAntenna maker Taoglas has launched a set of 5G antennas using beam-steering chipsets at Embedded World taking place this week in Nuremberg, Germany.
The introduction includes the 5G New Radio (NR) KSF.410, a new 5G millimeter wave beam-steering antenna targeting frequency bands 27.5 GHz to 28.35 GHz. The beam-steering technology extends coverage and increases throughput exponentially, while requiring less equipment.
The beam-steering technology found in the KSF.410 array and chipset, which is from Analog Devices, is configured to work with an algorithm to provide dynamic beam control. This technology provides amplitude and phase control with very fine beam tuning to help increase the link quality and deliver better propagation and reception for next-generation use cases that need extreme data speeds and high capacity.
Taoglas said beam-steering is critical to 5G because it allows operators to extend coverage of the networks without additional infrastructure investment.
The 5G NR KSF.410 features wide azimuth coverage of +/-60° beam scan, peak gain of 17 decibels relative to isotropic (dBi) and 16-element array with full amplitude and phase control at each element.