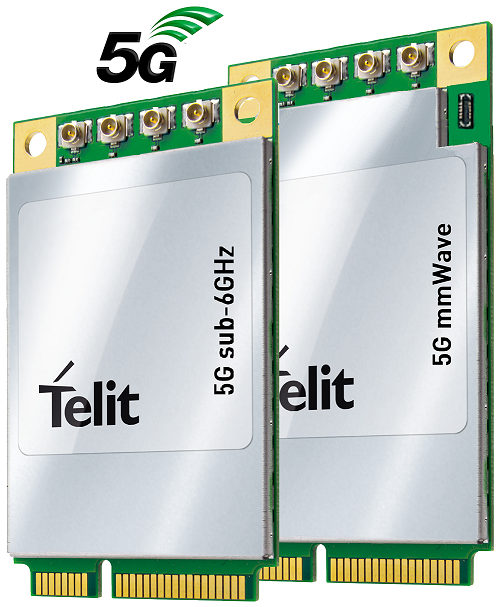 The data cards based on Qualcomm's 5G technology. Source: TelitTelit has introduced new data cards based on Qualcomm Technologies' second-generation Snapdragon X55 5G New Radio (NR) modem and antenna modules with integrated RF components.
The data cards are designed to work with enterprise network appliances, branch and remote office routers, fixed wireless broadband internet access and other applications that can benefit from enhanced 5G speeds.
Telit will be showcasing the 5G data cards at the upcoming Embedded World tradeshow, taking place in Nuremberg, Germany, Feb. 26-28.
"The first use cases for 5G ultra-high speeds will focus on transforming fixed wireless access and on enabling enterprises to grow and reconfigure their networks for improved resilience and speed," said Manish Watwani, chief product and marketing officer at Telit.
This will also allow devices like video cameras broadcasting 4K or 8K HD video to benefit from the high bandwidth provided by 5G, with up to 800 MHz supported in the millimeter-wave spectrum at multi-gigabit speeds.
Telit said two new data card variants will be available. The first is a 5G/LTE card in bands below 6 GHz in time division duplex (TDD) and frequency division duplex (FDD) mode. The second will support 5G in millimeter-wave bands.
The cards will include non-standalone and standalone modes of operation to support all anticipated major 5G networks. They will also serve as an evolution path for current Gigabit class of LTE devices to 5G.